Review of Funny Prank Mirror app for iPhone
Putting two words together like funny and scary in the same sentence is madness, but we have no choice with the 'Prank Mirror' iPhone app. This application has been out a while now, but we are having so much fun with it still, and seeing as there are not many reviews about it we thought we would do the decent thing and do one.
Do you remember the days when you went to a funfair and saw those funhouse mirrors? You know the ones we mean, where you stand in front of them and they mirror back some funny images of yourself, and then you cannot stop laughing, these mirrors still exist today.
All it took was some plastic with a reflective mirror coating placed on a wall in curved a structure to bounce funny images back of yourself. It does not matter if you are 3, 10 or 40, we all still laugh uncontrollably.
Well we do not need such big mirrors anymore, because there is an app for that called "Prank Mirrors".
We installed this app on our iPhone 4S, which will also work on the iPad 2 and then had a little fun. Prank Mirror will have you in fits of laughter, in fact I am still laughing at the pictures we have provided below, and yes I am in a few of them. You can now laugh in real time with many different types of mirror options, such as alien, brain, big boss, onion and so many more, to be precise there are 15 pre made prank mirrors.
You can play around with the images by moving you head and body or you can warp by using your finger on the touchscreen, have fun and then send them to friends and family via your photo gallery, send to Facebook etc.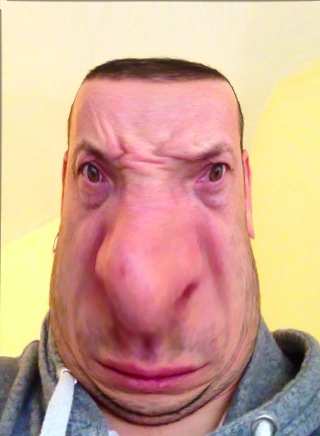 Main features include: Works in real time and does not require existing photos, ability to create your own prank mirror, send your funny images to friends, distortion tools you control yourself, multitouch support, record video with voice altering, share video with Facebook and YouTube.
Controlling the app is very easy indeed, you can switch between different mirror options, there is a camera rotation option to do yourself or others if you wish, you can send to social networks such as Facebook and even send to YouTube. There is so much you can do that will give you plenty of laughs.
We have done a video, and we are not into doing our own videos so please do not slate us on the quality; we are going to start doing better videos within time.
Prank Mirror is free or you can opt for the 69p Pro version. Have fun; now look at our own photos below and our quick video.