The Best Three Mobile GPS Vehicle Tracking Devices
Mobile GPS vehicle tracking devices are not something that is only used in law enforcement. Various families and businesses nationwide have discovered the peace of mind and convenience of these products. GPS devices are not only blocked products that one places underneath a car for tracking. These devices have taken revolutionized approach with a break-neck pace with ever changing technology. This article goes into detail about some of the best mobile GPS vehicle tracking devices currently on the market.

1. NexTraq Fleet Mobile

This innovative vehicle tracking device enables business owners the ability to track exact locations of their vehicles, at all times. What are the benefits of tracking your company vehicles? Business owners can enjoy a reduction in overhead costs while maximizing profits. Car Insurance companies do offer discounts to business owners who use mobile GPS tracking devices up to fifteen percent.
NexTraq Fleet Mobile places the power where it belongs; in the hands of the business owner. It provides GPS tracking information to PDAs, smartphones and tablets. You can have the ability to track performance and position of each vehicle in your fleet round the clock. Fleet Mobile is a convenient solution that gives you access when you want it, no matter the time of day or night. You can get speeding violations, dispatch alerts and unauthorized use alerts sent directly to your mobile phone.
NexTraq Fleet Mobile offers:
– Locating closest vehicles to any given area
– Locating vehicles
– Viewing status of vehicles
– Search for addresses
– Storing and managing fuel purchases
2. Fleetilla.mobi

Fleetilla is a web-based management tool that delivers information you need, when you want it. This online program provides straightforward solutions to business owner's complex problems. If you want to venture into vehicle tracking to get the most out of your business, Fleetilla is the ideal solution for your business.
– No need to install or maintain software with Fleetilla's web-based application.
– Provides easily access information.
– Analyze and report history of business vehicle use.
– Monitor driving habits and idle times of employees.
– Eliminate un-authorized operation of business vehicles
– Reports can be generated on scheduled times and demand for future deliveries.
– Round the clock access, to your business vehicle information.
– Provides fuel tax reports.
– Mobile phone and email alerts.
3. TrimTracPro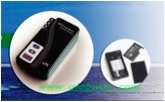 TrimTracPro gives parents the tools to track their children at all times. This smart mobile tracking tool provides data showing where your children are moving and in what direction. The data can be viewed online. If you do not have access to a computer, simply log onto your mobile device and listen to an automated voice message reporting the direction of the car is headed that your child is driving. The automated message will even reveal the speed of the vehicle.
The tool provides more than just GPS tracking. TrimTracPro enables unlocking-locking features for those awkward moments when you lock your keys in your vehicle. A really-cool feature of this device is that if your vehicle is stolen, you can disable the car. Families have reported the convenient feature of receiving alerts informing them their battery is low, or it is time to take your vehicle in for a checkup or oil change.
As you can see, mobile GPS tracking devices have revolutionized into incredible technology that not only business owners can enjoy, but families. The three mobile GPS tracking devices mentioned in this article, I have listed some of the most sophisticated and timely tracking devices on the market. No matter what this article or anyone says, please conduct your homework before purchasing any GPS device.
Author Box
The post is shared by Peter Smith. Peter has traveled extensively all over the globe participating in various tech conferences. His live conferences are acclaimed for extensive coverage of new technologies. Visit his site to know more about vehicle tracking and Safetrac Solutions.