Alike, PicMonkey & Song Pop, 3 hot iOS apps now
Here at Phones Review we always enjoy bringing readers details of new and popular apps and today we've rounded up 3 of the most entertaining iOS apps of the moment, Alike, PicMonkey and Song Pop. All of these apps are hot right now and even better, they're all free and we'll supply you with details and the download links too.
All are currently available in the App Store and first off we'll start with Song Pop by FreshPlanet Inc., for no other reason than this is our current favorite app and truly addictive. We've spent a lot of time already amusing ourselves with this fun game and as all sorts of music and eras are represented we reckon that everybody can find something here to enjoy. The app is compatible with iPhone 3GS, iPhone 4, iPhone 4S, iPod touch (3rd gen), iPod touch (4th gen) and iPad running iOS 4.0 or later. The game involves listening to song clips and recognizing them from your music memory bank and you can also challenge your friends to play along.
Identify the songs from the clips and you can prove yourself a music genius, depending on how good you are at it of course. The app features 6 basic playlists, from classic rock to current day hits, with thousands of songs and it's also possible to unlock further playlists with more genres, more artists and special song collections. To see more, or to download Song Pop head to iTunes here where it's rated as a 12+ app.
Next we have Alike, from Blue Graphene S.L. and this is great for those of you who've always wondered if they look like a celebrity. Maybe friends and family are always telling you that you resemble a certain star and you can't see it? Well this app will let you see if they have a point or not. It's simple to use, just take a photo of yourself or someone you know and the app uses the best facial recognition software (over 34 billion faces found) to find a match for who the image looks like.
You can also share the results with friends via Twitter, Facebook or email and use Wikipedia and gimages to find out more about the person you most resemble. The Alike App is compatible with iPhone, iPod touch and iPad running iOS 5.0 or later and if you want this one then head to iTunes here. Be warned though. If you think you look like George Clooney be prepared to find out you look more like Will Ferrell instead (no offence Will)! We have to say we've had some rather variable results although it's still entertaining stuff.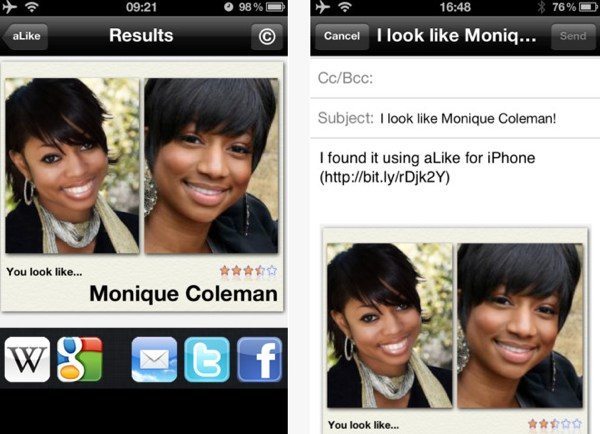 There's not too much to say about our last choice, which is PicMonkey from Mobiq Inc. This is a simple but entertaining image search app that you can search by trending keywords and your keywords. It's compatible for iPhone, iPod touch and iPad running iOS 4.0 or later but be aware you must be 17+ to download this one. It's available from iTunes here.
Hopefully this selection of three of the most talked-about iOS apps at the moment will provide you with plenty of amusement and entertainment. If you already use any of these apps tell us what you like about them? Maybe you've tried one now as a result of reading this and could let us know what you think by sending us your comments?