Google Doodle prompts London Olympics 2012 Table Tennis apps
Google is doing us proud at the moment with a series of special Olympic Games Google Doodles for London 2012. Today the Google Doodle marks Table Tennis and as we've done on previous Doodle occasions we've rounded up a few table few table tennis apps to enhance your experience of the sport at the Games. Our selection includes both iOS and Android apps.
Many people who don't usually follow table tennis are viewing the sport at London 2012 and so some of these apps will help you learn more about the game, or will be suitable for people who already play. We've also suggested a table tennis game app so that if you feel spurred on to try it out for yourself you can have a go without leaving the comfort of your armchair. Simply hit the links to go straight to the App Store or Google Play for more information or to download.
Firstly we have an iOS app called Table Tennis Strategy. This is priced at $0.99 and compatible with iPhone, iPod touch and iPad running iOS 5.1 or later. Users of this app can talk about game plans and strategy with other team members so it's a good choice for players, parents or coaches.
If your viewing of the table tennis at the Olympics has spurred you on so that you want to see more, our next app choice is for Android devices and is called Table Tennis Videos. It's a free app for devices running Android 2.1 or later and contains videos from the International Table Tennis Federation (ITTF).
Another useful iOS app for those who play the sport is Table Tennis Scorer. This is a priced at $0.99 and compatible with iPhone, iPod touch and iPad running iOS 5.1 or later. This app can be used to score matches by recording points, games and sets. It's simple to use and supports error correction and again this is another good app for players, parents and coaches and those who watch a lot of table tennis.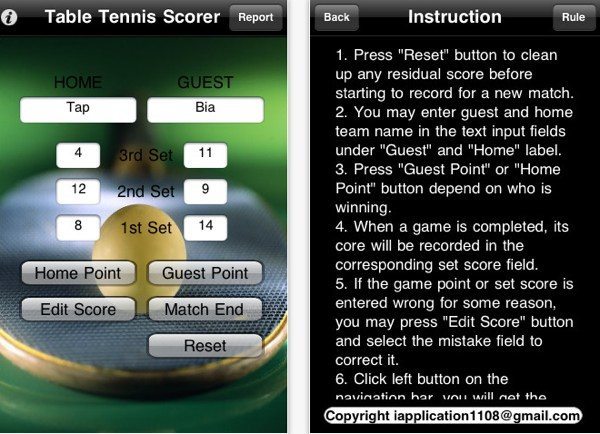 Next is an Android app, again for those who play the game and it's Table Tennis Time. This is a free app suitable for devices running Android 2.2 or later. This is aimed mainly at those who play the game seriously in North America and gives access to ratings, tournaments, clubs and news from ITTF world ranking and events.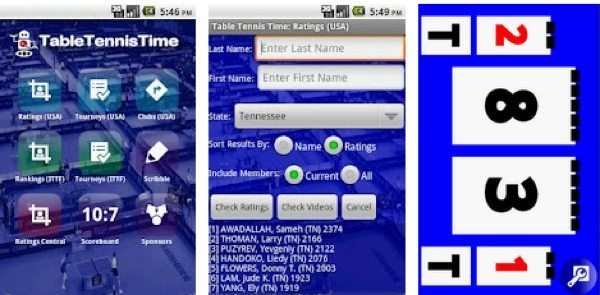 Finally as a bit of fun in case you want a taster of playing the game there's World Cup Table Tennis. This is an iOS app priced at $0.99 and compatible with iPhone, iPod touch and iPad running iOS 4.0 or later. This is the number one iOS tennis game app across 70 countries and you can play as or against 40 countries. It features 20 paddles and power-ups for more spin or power. There are four modes of play, Career Mode, Tournament Mode, Arcade Mode and Head-to-Head Mode and the ability to earn Gold Cogs. This one is also available from Google Play here as a free app for Android devices.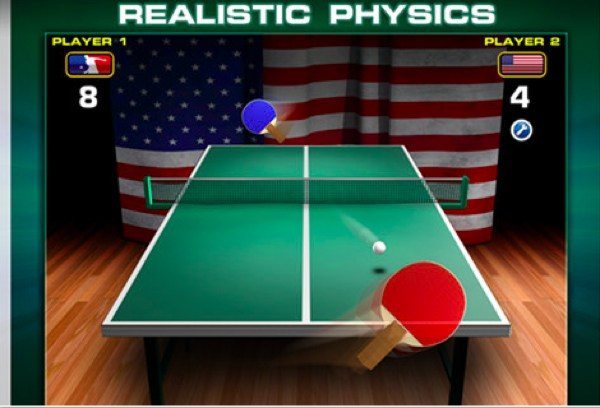 Hit the links to our previous hockey apps and fencing apps articles if you want more on those and hopefully this roundup of table tennis apps will provide you with at least one that offers exactly what you're looking for. Let us know if you enjoy any of these apps or if you have any other table tennis apps to recommend then share them with our readers by sending your comments to us.