Apple vs Google, worst maps belongs to!
As you probably know, Apple has decided to boot Google Maps to the curb on their iOS devices, and have opted to deliver their own Apple Map version when iOS 6 finally gets released later in the year, and sometime back Apple previewed Apple Maps, which looks to be a fairly competent substitute for Google Maps. However, the Google guys have been in the maps game for quite some time, so can Apple actually deliver a better maps app than Google, or will it be worse?
A while ago Business Insider took a look at Apple Maps in iOS 6 and say that Apple Maps is missing a killer feature, and that is transit directions, and the lack of transit directions in Apple Maps is a bit of a slap for any of the iOS faithful that happens to use public transport. However, Apple has said they will allow 3rd-party developers deliver transit directions for Apple Maps, but with the lack of transit directions baked in, Apple Maps will be somewhat inferior to Google Maps, and although probably isn't enough to push iOS users away from the Apple platform to Android, transit directions should have been baked in.
According to the guys over at Mashable, the lack of transit directions in Apple Maps could be down to most cities writing their transportation in General Transit Data Feed, which was originally know as Google Transit Data Feed, and as it was developed by Google, this could be the reason Apple is unwilling to use it.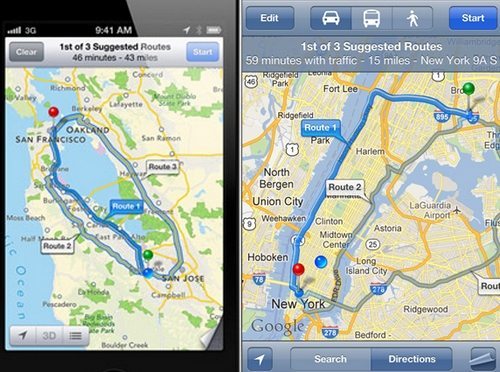 Both Apple Maps and Google Maps enable the user to search for restaurants near your location, whilst Apple Maps goes a tad further by integrating Yelp info into those searches so the user can view reviews and ratings for a particular restaurant.
Both Maps apps offer a birds eye view, with the Apple version called 3G Flyover, and the Google version called Tour Guide, and the Apple version does appear to run smoother and looks a tad more impressive, with images in Maps being rendered in real time in detailed 3D.
However, one will need to wait until such times as Apple delivers the Apple Maps app to the iOS platform before anyone can really make a good comparison between the two. No doubt the iOS faithful will herald Apple Maps as the best available, whilst the Android faithful will come down on the side of Google.
So we'd like to ask our readers what they think, do you think Apple Maps will outdo Google Maps, or do you think Apple's map app will probably be worse that Google Maps? Feel free to voice your opinions to our comments area below.