Pre-order Android Acer CloudMobile via Expansys UK and US
If you are one of the Android faithful in the market for a new Android Ice Cream Sandwich smartphone, and have had your eyes on the upcoming new ICS handset from the Acer camp in the form of the Acer CloudMobile, you might like to know that you can now slap a pre-order in for the Acer smartphone, as long as you want the device as a SIM free handset, and you can do so in both the United Kingdom and the United States.
Word that you can now pre-order the Acer CloudMobile as a SIM free device comes our way courtesy of Engadget, who discovered the handset is up for pre-order at Expansys UK with an expected release date of the 5th of next month and commanding a price tag of £284.99, which is roughly $447 US. Furthermore, the Android Ice Cream Sandwich handset is also up for pre-order over at Expansys US, although it doesn't reveal any pricing and states that the price has not yet been announced, and also doesn't mention any expected release date in the USA.
Spec wise the Acer CloudMobile handset is said to sport a 4.3-inch IPS LCD 720p touch screen along with 1GB RAM, 1.5GHz dual core processor, an 8 megapixel rear facing camera with LED flash, noise cancellation secondary microphone on the rear, a front facing camera, 16GB storage, WiFi, Bluetooth, A-GPS, microSD exapnsion up to 32GB, 3.5mm jack, runs Android 4.0 OS, and features Acer's new Cloud service.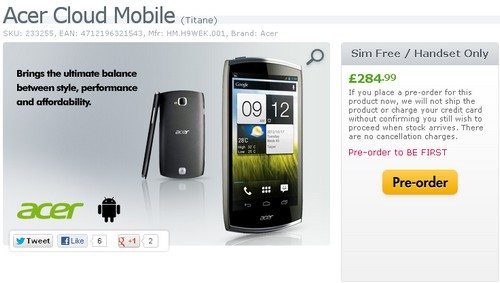 If you are in the market for the Acer CloudMobile we have a video hands-on review for your viewing consideration below so you can re-familiarise yourself with the device, so don't forget to mash that play button to check out the CloudMobile in action.
Any of our UK or US readers tempted to slap in a pre-order for the unlocked, SIM free Acer CloudMobile?