CruxSKUNK iPad case transforms into MacBook laptop
If you own an Apple iPad but would love to have the physical keyboard of a laptop, there are of course many ways you can achieve this, but how about using a physical keyboard case that turns your iOS slate into a MacBook lookalike so it retains the famed Apple styling? Well there is a project running over at Kickstarter that can do that for you, and that project is called the CruxSKUNK case for iPad.
The CruxSKUNK case for iPad maintains the simplicity of the iOS tablet whilst keeping true to Apple's design aesthetic, and when the CruxSKUNK is closed measures just 19mm thick coming in at about the same thickness and weight as a Macbook Air, whilst the base is 6mm thick it is the thinnest keyboard for the Apple iPad.
The CruxSKUNK offers a full sized QWERTY keyboard, and apart from full size keys they have also added function keys to the top of the functions the user uses most. The case has been designed with a 360 degree hinge, which enables the user to use the device in numerous positions, whilst the 3 main parts of the CruxSKUNK have been machined from a single piece of aircraft aluminum, with those parts sandblasted and anodised to deliver the same finish as your iOS tablet.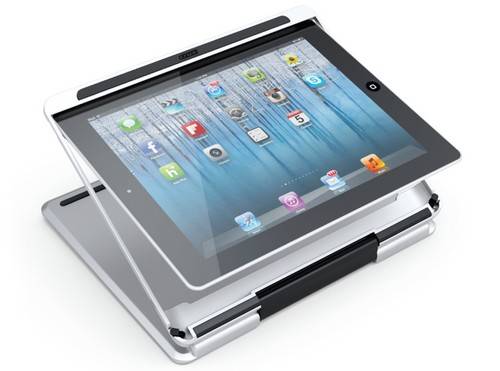 The CruxSKUNK case is compatible with the Apple iPad 2 and the new iPad, and connects to the tablet via Bluetooth, and automatically turns your slate on and off as you open or close the case just like the Apple Smart Cover.
Obviously, as the CruxSKUNK case for iPad is a Kickstarter project they are currently looking for a funding goal of $90,000, and thus far have managed to garner $38,115 in pledges with 43 days to run, so if you believe that the CruxSKUNK is something that you would like to own you can of course make a pledge by hitting up the CruxSKUNK Kickstarter page.
Before you do though, if you would like to know more about the CruxSKUNK case for iPad, we have embedded the introduction video for your viewing consideration below, so don't forget to hit that play button and check it out.