RadioShack offering no-contract service by Cricket
If you are over in the United States and prefer to grab your smartphone without a contract, it appears that you will gain a new no contract service as of the 5th of next month, and this new no contract option will come from none other that RadioShack, and the word is the RadioShack no contract service will be powered by Cricket, who as you probably know offer similar no contract services with other retailers.
The news of this no contract service from RadioShack comes our way courtesy of a report by Cnet, who say an alleged internal memo was obtained by the guys at Engadget, which reveals that RadioShack no contract wireless is expected to launch on the 5th of September.
Apparently though the RadioShack no contract wireless service as it will be known, will differ from other Cricket services by offering customers an exclusive 8GB SD memory card on all Muve Music handsets.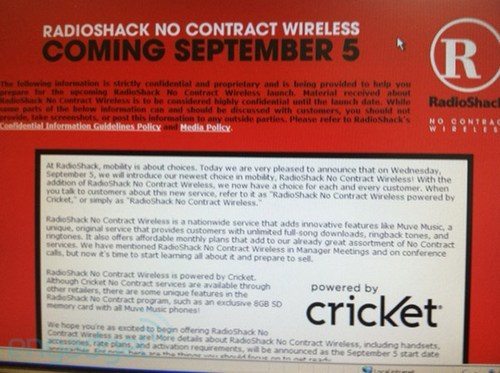 Back last summer RadioShack announced they would no longer support T-Mobile USA plans and devices; however would offer Verizon services in store, and apparently it isn't quite clear how that arrangement will be affected by the RadioShack self branding service.
However, as the info has come by way of an unnamed tipster, it remains to be seen if the information is correct, but as September the 5th isn't that far off all should be confirmed if true in a few weeks time.
So, if RadioShack does indeed offer their no contract option, will any of our American readers be picking up a new device using RadioShack no contract wireless?