IQ Test App and answers still addictive
If you are one of the iOS faithful out there that is into testing your IQ so you can find out just how smart you are, there is an iOS app that has been available for quite a while called IQ Test Pro that enables you to find out if you are smarter than your average friend so you can brag about it.
The IQ Test Pro app for the iPhone, iPod Touch and Apple iPad tests your IQ by questions that have a formal manner, just like if you were sitting in an examination room, and each question is multiple choice, with each question using pictures, words or numbers, and the user has to select which answer options fit the group.
The IQ Test Pro app for iOS devices doesn't make it easy either, as the app doesn't really offer any insight as to what to do, but when the users gains a feel for the app it is fairly uncomplicated to work out the 40 questions that make up the test to find out your intelligence quotient, and is apparently quite an addictive little app.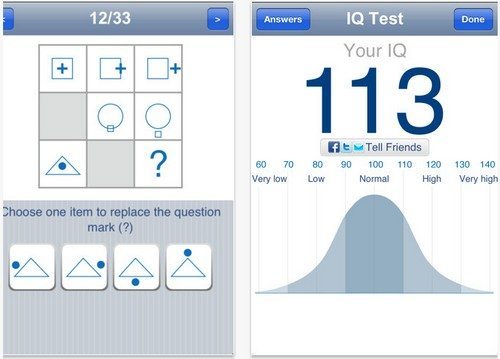 On completing the IQ test the user is given congratulations along with your IQ score, which is also compared to such brains as Rembrandt and Einstein, and with the pro version of the iOS app, the app even provides the correct answers to the test, and apparently the IQ test takes roughly 40-minutes to complete, so that's one minute per question.
The IQ Test Pro app has been updated so that it adds a history view of name, IQ score and date, and the history can be deleted whenever the user desires, and the update also fixes the control alignment on iOS 5 with non-English keyboards.
So if you haven't already downloaded the IQ Test Pro app for iOS devices, you can find out your IQ by heading on over to iTunes where you can download the app at a cost of $1.99.