LG goes official with Optimus G confirms specs
A few days ago we let readers know that LG was to debut a new Optimus smartphone that was rumoured to possibly rival the Samsung Galaxy S3, and that handset would be the LG Optimus G, and now LG has gone official with the new handset in South Korea and confirmed the specifications of the device that will also release in the country sometime next month.
According to a report over on Phone Arena, LG has confirmed on their website that the LG Optimus G will sports a 4.7-inch TrueHD IPS touch screen along with in-cell tech, the same tech that is rumoured to arrive in the new iPhone, along with an RGB matrix, and apparently LG has said that when the display is turned off, the body and bezel match the screen.
Other confirmed specifications of the LG Optimus G include a 1.5GHz Snapdragon S4 Pro APQ8064 quad core processor, along with 2GB RAM, and a 13 megapixel rear facing camera, and a 1.3 megapixel front facing snapper, the device also spots a 2100mAh battery and runs Android Ice Cream Sandwich, so basically all the rumoured specs for the device seem to be spot on.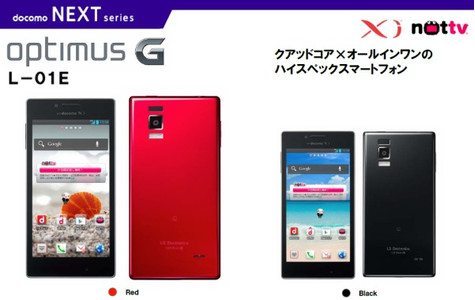 As mentioned above, the LG Optimus G is expected to become available in South Korea sometime in September, after which the Optimus G will head for Japan in both black and red flavours by way of NTT DoCoMo sometime in October or possibly November, where it will be known as the LG Optimus G L-01E.
As for a global roll out of the Optimus G, apparently that has been scheduled for later in the year, but just when later in the year hasn't been stated, no mention of pricing either at this stage, and no word on when the Optimus G will get updated to Android Jelly Bean, but as the device is LG's new flagship handset, Jelly Bean shouldn't be too far off in the future.