Verizon Samsung Galaxy Stellar 4G price on Best Buy
We first heard of the Samsung Galaxy Stellar for the Big Red way back in March when old Sammy applied for the US trademark on the Android smartphone, and there has been quite a bit of info about the Galaxy Stellar in recent days, such as the handset's on contract pricing, and now it appears new details on the Samsung Galaxy Stellar have surface on Best Buy.
According to an article over on Android Authority, it appears that Best Buy has decided not to hold off and wait for Verizon to go official with the smartphone, and as such has posted the product page for the Android handset that delivers all the goods on specs.
Those specifications for the Samsung Galaxy Stellar include a 4-inch WVGA touch screen along with 800 x 400 resolution, it was expected that the Galaxy Stellar would come with a 1.5GHz Snapdragon S4 dual core processor, but instead has a 1.2HGz dual core processor, sports a 3.2 megapixel rear facing camera, and a 1.3 megapixel front facing snapper, and runs Android Ice Cream Sandwich.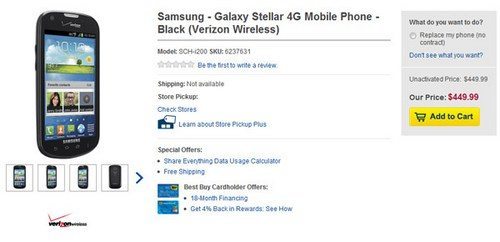 The Samsung Galaxy Stellar also sports 1GB RAM, 4G LTE connectivity, Bluetooth, 4GB internal memory, microSD expansion, and measures 4.7/8 x 2.1/2 x 1/2-inches with a weight of 4.7 ounces, and a battery that is said to offer up to 17 hours of talk time and up to 9 days of standby time.
Price wise the Galaxy Steller is expected to command a price tag off contract of $449.99 from Best Buy, or with a Verizon contract for 99-bucks. So there you go, will any of our US readers be purchasing the Samsung Galaxy Stellar once it goes official?