iPhone 4 / 4S Dual SIM case for both standard and micro
If you are one of the iPhone faithful over here in the United Kingdom, and in the market for a new case for your iPhone 4 or iPhone 4S there is a new iPhone case coming to market next month called the Dual SIM Card case for the iPhone, that enables the user to swap SIM card with a simply flick of a switch.
The Dual SIM Card case for the iPhone is made by gift and gadget developer thumbsUp, and is easy to set up as all you do is slide an adapter into one of the card slots and then insert your SIM, there are two adapters and two compartments for your SIM cards whether micro or standard, and the durable cover slides over the SIMs so your protected against scratches and bumps.
When the user wants to switch SIM cards, all you do is activate a switch on the rear to the SIM you wish to use, and then switch on your iOS smartphone, and the case even comes supplied with a SIM key. The case requires no software, and simply enables the user to have 2 SIM cards installed at the same time.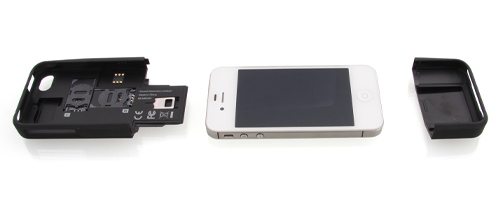 Whether you are an iPhone user that is off travelling and wish to swap your home and abroad SIM cards, or if you wish to have personal and work SIM cards, the company says the Dual SIM Card case for iPhone is the practical option to use.
If you would like to purchase the Dual SIM Card case for the iPhone 4 or iPhone 4S, the accessory will becomes available in the United Kingdom sometime in September, and commands a price tag of £29.99.