Sensia 200D Connect, listen to music via iPhone & Android
For those iPhone and Android faithful that enjoy listening to music, there is the Sensia 200D Connect, a fully featured portable music streaming and radio system with a large colour touch screen that enables you to use Pure Stream to listen to your music streamed from your iOS, Android PC or Mac, or listen to FM, Internet radio digital radio.
The Sensia 200D Connect supports instant and timed recording of lie Internet radio and digital radio to a USB stick, and delivers 30W RMS digital sound via DSP tuned class-D amplifiers, and features reality enhancing stereo separation and delivers immersive sound.
With the Sensia 200D Connect the user can listen to music streamed from their iPhone, iPod and Apple iPad or Android device, tune into worldwide Internet radio, FM and DAB radio, play on demand podcasts and programmes, stream millions of music tracks via the Pure Music service, and explore, find and purchase new music via the Pure Tag feature.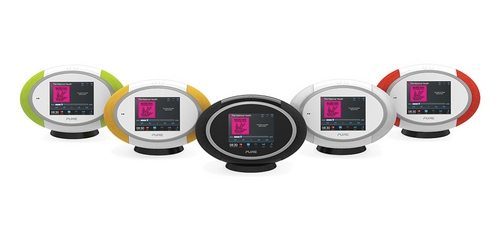 The Sensia 200D Connect offers a 5.7-inch touch screen that can display album art and radio station slide shows, along with remote control, the ability to view Facebook, Twitter, weather, Picasa and more, input for an MP3 player or iPod, and measures 166 x 280 x 180mm with a weight of 1.9kg excluding ChargePAK, which is an optional F1 in-unit rechargeable battery pack and features a captive telescopic aerial and internal WiFi aerial.
For those that might be interested in owning the Sensia 200D Connect portable music streaming and radio system, we have a quick promotional video for your viewing consideration below, so don;y forget to mash that play button to see what the device is all about.
And if you would like to purchase the Sensia 200D Connect, the device comes in a range of colour options including either black, white, lime green, mango, and burnt orange, but does command a hefty price tag of £249.99 from Pure.com.