Nokia City Lens app offers AR for Windows Phone 8
During their event Nokia went official with their new Nokia Lumia 920 Windows Phone 8 handset, and now the company has also gone official with announcing the Nokia City Lens app for Windows Phone 8 and Nokia Lumia devices, and showed off the tech running on their new flagship Windows Phone 8 Lumia on stage.
According to an article over on Slash Gear, Nokia City Lens app doesn't just let you see restaurants or directions around you, but the user sees them live via City Lens that can be launched straight from the Nokia Maps app by tipping your device up and 'looking upon the world.'
Nokia City Lens was launched earlier in the week by Nokia Betalabs, and apparently offers more than usual augmented reality app, as the users gets to see names of coffee shops, restaurants, and more right on the Windows Phone device touch screen, and Nokia has also announced that they are combining Nokia City Lens with augmented reality, and hopes than combining the tech in their Windows Phone 8 devices will offer the user a more human and intuitive way of exploring and enjoying their surroundings.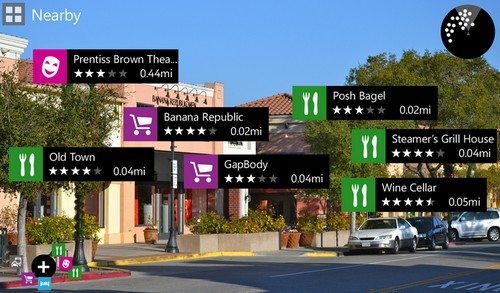 Using Nokia City Lens, the user can see what's nearby via camera view, maps view or list view, read a review or detailed description or call with a simple tap, and also share your destination with friends via email, SMS or social networking, gather info on a chosen spot, and save recent searches.
For those Nokia fans that are interested in Nokia City Lens you can try out the app by heading on over to Nokia Betalabs, but before you do you can learn all about Nokia City Lens by mashing the play button on the video we have for your viewing consideration below…enjoy.