Sony Xperia ion Android ICS update could be this week
We've been trying to keep readers informed with all the developments over the latest Android updates for their devices. While Android 4.1 Jelly Bean is the very latest operating system we shouldn't forget that some device owners haven't yet received the previous update, 4.0 ICS (Ice Cream Sandwich). Today we have good news for Sony Xperia ion owners as it seems the 4.0 ICS update could be with you as early as this week.
The Xperia ion was launched running Android 2.3 Gingerbread so many users will be pleased that they will finally receive the upgrade to ICS. This update has not been officially announced yet by Sony but at least one carrier has tweeted to its customers that ICS is on the way for the Xperia ion. Rogers of Canada posted a tweet a few days ago saying to Xperia ion users saying, "Your upgrade to ICS will be coming next week!" This looks pretty decisive and if the update is coming to Rogers Xperia ion owners it seems likely that it's on the way for ion users on other carriers.
There's no firm date mentioned in the tweet from Rogers, as reported by GSMArena, but this should at least give many people some hope of ICS very shortly. When we wrote a recent post about the odds on various devices getting the latest OS update to Jelly Bean we mentioned Sony devices. We pointed out that as the Xperia ion disappointingly released running Gingerbread rather than ICS it didn't seem as though Sony was particularly interested in getting the latest OS to users.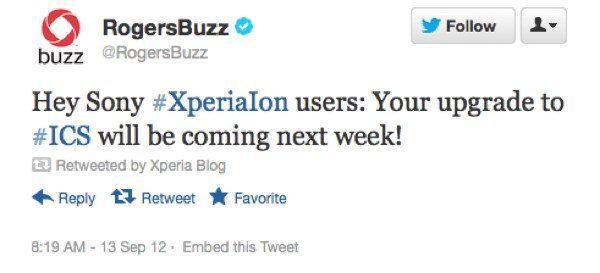 We're pleased then that Xperia ion users at least look to be getting ICS but don't know if Jelly Bean will also head your way at one point. However considering how long the ICS update took to come we wouldn't hold our breath waiting for Jelly Bean. Of course we'll bring you more news on the latest developments for the Xperia ion and Android updates as we hear further details.
Are you a Sony Xperia ion owner and waiting for the ICS update? What do you think about waiting this long already to get your taste of Ice Cream Sandwich?