Samsung Galaxy Note X steps up to 6.3-inches and then some
The Samsung Galaxy Note 2 is soon to be released and we've not held back with our enthusiasm about this upcoming larger-screened smartphone. When the original Galaxy Note was launched there was some doubt as to whether a phone with such a big display would catch on and many described it as a 'phablet.' However those doubts were dispelled with massive sales and the Galaxy Note 2 got even bigger. But how big is too big? We'd like to introduce you to the Samsung Galaxy Note X with a display that steps up to 6.3-inches.
If you thought the 5.5-inch display of the Galaxy Note 2 was huge then imagine the Galaxy Note X with 6.3-inches of glorious viewing. Before you get too excited though we have to tell you that the Note X is actually a concept phone and won't be hitting the shelves any time soon but we thought this concept was so interesting that readers would enjoy seeing it. The designer has created a Note X with a Super AMOLED Plus display, though the size of the 6.3-inch display with HD resolution also makes us wonder, when does a phablet become a tablet?
It was brought to our attention by Concept Phones and designed by Erica Yusim and in fact we think many Galaxy Note 2 fans may well enjoy the Note X if it ever became to be a genuine product on sale. The concept has some great specs which could get Android fans drooling such as a Cortex A15 2GHz quad-core processor, 16-megapixel rear camera, 3-megapixel front-facing shooter, 3GB of RAM and storage options of 32, 64 and 128GB. The Galaxy Note X also has a whopping 4000mAh battery, next-generation S Pen stylus, WiFi, Bluetooth 5.0, AGPS, Glonass, USB 3.0 host, mHL and NFC. On to the all-important operating system and the Galaxy Note X of course has Android 5.0 Key Lime Pie.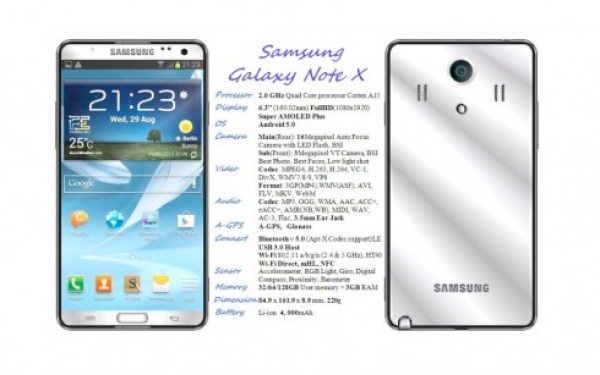 It weighs 220g and is 8.3mm thick and the concept images show a stylish and handsome device. We reckon this, combined with the specs, is enough to have many readers thinking, 'if only.' For now though you'll just have to keep dreaming. We'd love to hear our reader's thoughts on this Galaxy Note X concept.
If this phone were to ever hit the shelves would you be first in line? How long do you think it will be before the above specs are commonplace in top-end smartphones? We'd like to receive your comments on this.