New Bad Piggies game for Android & iPhone
As we have previously reported, Rovio has decided that it is about time the tables were turned against those Angry Birds with Rovio's latest mobile game Bad Piggies, a new game that lets the gamer take the part of the thieving green pigs and help them steal those eggs from the Angry Birds in numerous ways.
And now the Bad Piggies game has been release to both the Android and iOS platforms, with the Android version being available for free, whilst the iPhone version will cost the gamer $0.99, and the Apple iPad version will set the gamer back $2.99.
With the Bad Piggies game for iOS and Android devices, the gamer gets to create a flying machine and hopefully guide the Bad Piggies to their destination safely. The app has 60 levels that are all crammed with flying, crashing and driving fun with an additional 30 puzzles that can be unlocked by gaining three stars on a level.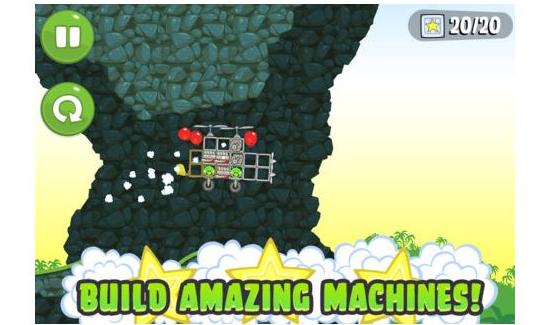 The Bad Piggies game also offers free updates, along with four sandbox levels so you can expand on your creativity, 33 objects so you can create the ultimate Bad Piggy transport machine with motors, wings, umbrellas, balloons, bottle rockets, fans and much, much more.
If you find yourself in a spot of trouble, there is the Mechanic Pig, a little green pig that can build your machine for you, it will assemble the machine and all you have to do is pilot the device, and you can tweak Mechanic Pig's design to gain all three starts. There is also an ultra-secret, ultra-special, ultra-difficult sandbox level that you can unlock by collecting all the skulls.
For those that wish to download Bad Piggies to their device, the iOS faithful can grab the game for the iPhone by hitting up iTunes, or for the Apple iPad by downloading the HD version from here, and likewise the Android faithful can grab the app by heading over to Google Play.