LG Optimus Vu 2 to compete with Samsung
Over the past few months or so one of the most sought after smartphones is the original Samsung Galaxy Note, which will soon be replaced by a new model. In the meantime rival manufacturers have begun developing their own take on the phablet device, and the LG Optimus Vu 2 looks set to compete with Samsung and the Galaxy Note 2.
As the Android Authority is reporting way back in February LG came up with the Optimus Vu, which at the time was obviously aimed to take on the original Galaxy Note. The trouble is though the device featured a screen that bizarrely went with an aspect ratio of 4:3, which compares with almost every other smartphone that uses 16:9.
This decision made the Optimus Vu difficult to just slide into a pocket let alone hold comfortably in a user's hand. In March the handset was made available in the Korean market before recently finding its way into the US market and on Verizon, but was called the LG Intuition.
Now the company has officially announced the follow up, but the trouble is the Vu 2 aka Vu II, has the same 5-inch screen with a 4:3 aspect ratio. The handset looks almost identical to the original model except what is under the hood has changed, and it remains to be seen if it can compete with the Note 2.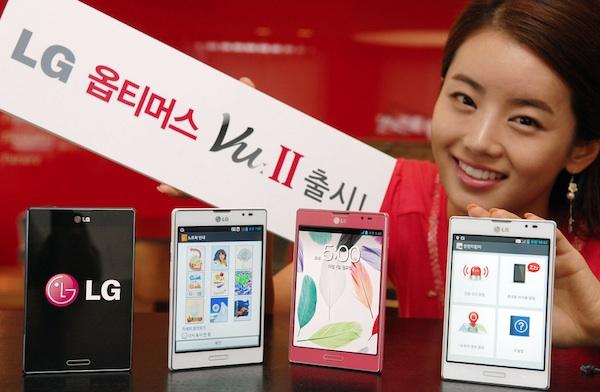 There is now a dual core Qualcomm Snapdragon S4 chip that is clocked at 1.5 GHz, which is coupled with 2GB of RAM. Currently there is no information on availability but it is thought the LG Vu 2 will cost an eye watering $865. It will feature a new stylus that is apparently easier to hold while in use and according to Engadget the smartphone will pack a 2150 mAh battery.
Surprisingly the handset will come running the Android Ice Cream Sandwich operating system, and there is supposed to be a One Key accessory that is a waterproof fob to placed on your key ring, which can be pressed to make the handset make a loud noise if you are trying to find it.
HTC have long been rumoured to be releasing a 5-inch phablet device that will feature a 1080p display that is made by LG, which makes you wonder why LG didn't use this for the Optimus Vu 2.