Siri for Android, try Voice Xtreme
The iPhone user has Siri, and there are a few virtual assistants available for the Android user as well, so they too can get a taste of what Siri is like. So we thought we'd bring another Siri like Android app to your attention today, just in case you may have overlooked it when searching Google Play for a virtual assistant app, and that app is called Android Voice Xtreme.
Android Voice Xtreme for Android devices is said to be a 'voice driven supercharger for your phone,' and delivers hands-free operation for opening applications, rear and reply to Facebook, email, texts, schedule calendar events, or if you are simply looking for a friendly voice to chat with.
The Android Voice Xtreme app features all the functions one would expect from a virtual assistant, such as integration with Evernote, location based reminders, location based actions, time based actions, an in car mode including wake up phrase, and home automation with INSTEON so you can turn on lights, open the garage door, and more.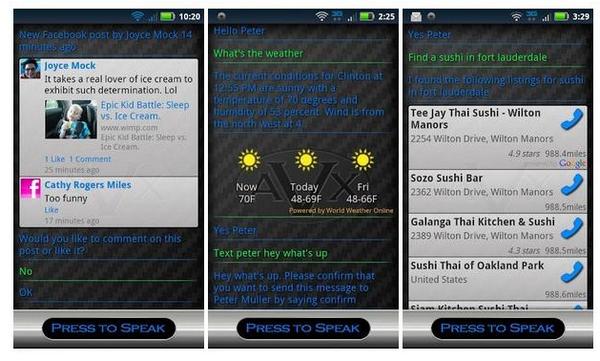 The application also features custom voice short-cuts to your apps allowing you to name an app anything you like, the ability to voice bookmark your favourite websites, and give that bookmark whatever name you prefer, the app also works with Bluetooth, and can be activated by shaking your device.
We have a video demonstration of the Android Voice Xtreme app running on the Samsung Galaxy S3 for your viewing consideration below, so don't forget to hit that play button before shooting off to grab the app, which is available for free from Google Play, or there is a paid version that will set you back £12.99.