Android mobile apps for Windows 8 via AMD and BlueStacks
If you are contemplating picking up a Windows 8 device in the future but are somewhat worried that Windows 8 doesn't offer enough applications for your liking, then fear not because many more app are coming to Windows 8, and those apps happen to be Android applications for Windows PCs.
According to an article over on Wired, both BlueStacks and AMD have now teamed up to bring a nice 50,000 Android apps to Windows computers through the AMD AppZone Player, with the software being powered by BlueStacks.
The partnership has focused on optimising Android applications for AMD powered Windows devices, and apparently Intel powered computers will be able to access the Android apps via BlueStacks' original software.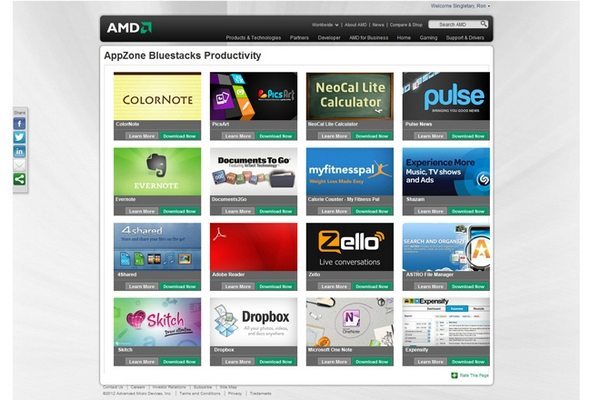 The CEO of BlueStacks, Rosen Sharma spoke to Wired saying, they have worked closely with AMD to optimise performance of the Android apps for AMD's unique graphics and computing on one chip setup, and the results are 'awesome.'
Word is popular Android apps such as Jetpack Joyride, Homerun Baseball, and Flipboard will be available on current AMD powered Windows 7 devices, and upcoming Windows 8 computers including touch devices, and BlueStacks has said that the 2 companies are in talks with computer makers such as HP to get the AppZone preloaded onto future AMD devices, although currently most manufactures are pushing out Intel powered Windows 8 computers, tablets and notebooks.
So there you go, if you do own a Windows 7 or a Windows 8 PC you at least now know that there is a possibility that you will be able to play along with 50,000 Android apps through the AppZone Player.