Docomo TV phone glasses for video calls
At Phones Review we enjoy bringing our readers all the details of the latest devices and every now and then something a little different comes along to grab our attention. That is precisely what's happened today as Japanese mobile operator NTT Docomo is currently developing TV phone glasses for video calls and has come up with an innovative prototype.
Fundamentally the Docomo TV phone glasses are a type of phone that wraps around your head and resembles a pair of ultra-rugged spectacle frames. The glasses use a fish-eye live video feed of the wearer's face when they make a call combined with the surrounding environment and this creates an animated polygonal image of the wearer, like an avatar. This avatar also has lips synced to the wearer's speech and microphone audio and its moves reflect the moves of the user. The video of the person who is receiving the call is projected on the glasses so there's no need for another device.
This clever idea uses high-resolution ultra-wide cameras but we initially asked ourselves why anyone would have an avatar represent them rather than simply a real image of themselves. However Ubergizmo explains that the avatar and video glasses mean the user can make calls and yet still be able to do other things at the same time thanks to not having to hold a phone. It also saves the user from having to sit in front of a webcam while making a video call.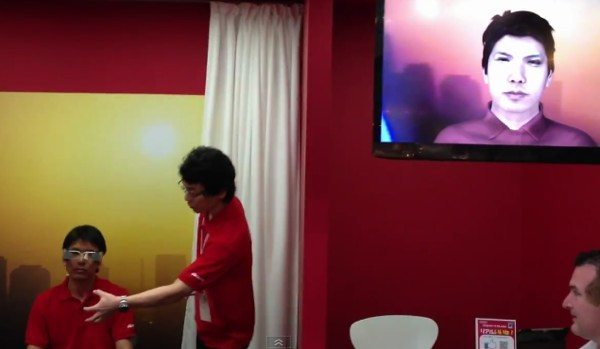 The device also features another useful idea as it contains sensors that can monitor health and even make healthy eating suggestions. So far this is just a prototype and so of course there's no idea of price or a release date anytime in the near future but it will be interesting to see how much further this may be developed. You can see a short demo video of the Docomo Glasses Phone below this story.
We'd like to hear your views on the phone glasses. Can you envisage a time when this concept could take off or is this idea something you feel would never catch on? Let us know with your comments.