Samsung Galaxy S3 mini event invite for next week
If you have been sitting on the fence over the Samsung Galaxy S3 due to its large size touch screen, and would prefer the Galaxy S3 but in a smaller size, then you might be in luck because the Samsung Galaxy S3 mini, which was rumoured back in August, just might be on its way to the mobile space possibly next week.
According to a report over on Android Community by way of Unwired View, the word is old Sammy has started pushing out invites for an event in Germany to be held on the 11th of this month, and apparently the accompanying text in the invite translates to…'something small will be really big, get ready for a little sensation.'
Whilst an image in the centre of the invitation appears to be the 'S' that Sammy always uses on their Galaxy S devices, and thus one can surmise that whatever Samsung is going to unveil at the event next week, it will be a Samsung Galaxy S device.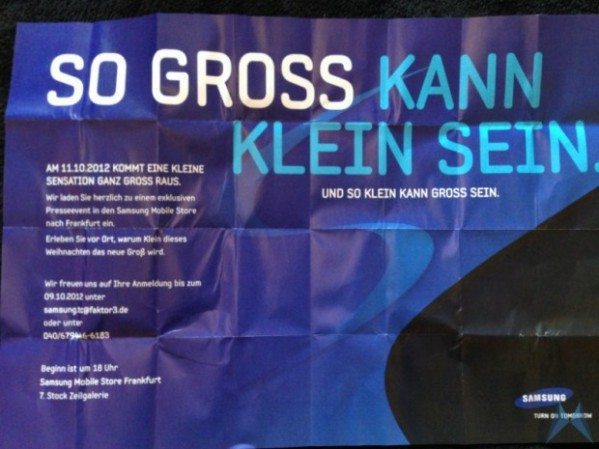 Apparently many sources that are 'close to the matter' are saying that it will be the Samsung Galaxy S3 mini, and not another Galaxy S device, but of course nothing has been confirmed.
Previous rumours have speculated that the Samsung Galaxy S3 mini will come out to play sporting a 4.-inch 480 x 800 WVGA Super AMOLED touch screen, a 5 megapixel rear facing camera, a dual core processor, and could possibly launch running Android Jelly Bean.
So there you go, if you have been holding off purchasing the Samsung Galaxy S3 due to its size, then perhaps if Sammy does unveil the Samsung Galaxy S3 mini on the 11th, the handset will suit your size needs better.