Presidential Debate cues High Stakes Politics game
The whole world knows that over in the good old US of A, the Presidential debate took place last week and that debate was apparently the most tweeted event ever, and if you happen to be deep into politics, not just US politics but current world politics and own an Android device or B&N Nook, you might like to know there is a new politics based game available called High Stakes Politics.
The High Stakes Politics game for Android and the Nook is a political trivia game whereby people that are into politics can sharpen their political knowledge both digitally and socially, asking questions on current world politic and the US political system.
According to a press release we received, the High Stakes Politics game has been able to provide some insight into player thought and knowledge on the presidential elections such as 42 percent of people have no idea about how much is spent I presidential elections, whilst 25 percent of people believe the campaign ads are by law required to be truthful, whilst 38 percent of people know how many electoral votes are in the US presidential election.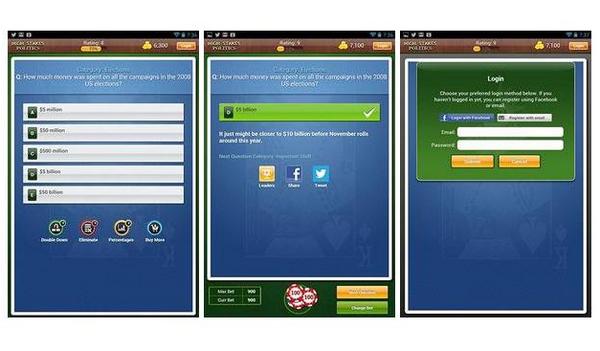 The High Stakes Politics game enables the player to bet virtual coins on questions and then receive a rating on how well you are doing, with over a thousand questions, and sarcastic commentary directly relevant to the election season and beyond, along with the ability to login to Facebook to access more questions and compare yourself to other players.
Thus if you are a bit of a political junkie and would like to have a go at the High Stakes Politics game, you can download the application to your chosen Android device for free by hitting up Google Play and likewise if you have a Nook you can grab the free game from the Barnes & Noble website.