Celebrate Herman Melville books with Moby Dick apps
At Phones Review we always enjoy the special Google Doodles that appear from time to time on the Google home page. They usually commemorate an occasion or honor a person and today's doodle is a tribute to Herman Melville, American author, on the 161st anniversary of his most famous book, classic novel Moby Dick. We thought we'd join in the celebration of this much-loved story by giving readers details of some Moby Dick apps.
The simple Google Doodle depicts Captain Ahab with a whaling harpoon and some of his crew in a rowing boat at sea and where Google is spelt out the 'L' is replaced by the spurting water from a white whale. Herman Melville was born on August 1, 1819 and died on September 28, 1891 in New York City. Moby Dick or The Whale was published on October 18, 1851 and is undoubtedly Melville's most famous work. Let's take a look at some iOS apps in the App Store that will help you enjoy this classic and much-loved Great America Novel. Simply click on the title links to be taken straight to the iTunes download page.
If you want a straightforward read of Moby Dick the first app we have for you is a free iOS app for iPhone, iPod touch and iPad running iOS 3.0 or later. It's called Moby Dick! and from Qualex Consulting Services. The reader has auto-scroller technology to make your reading experience easier and more enjoyable.
If you don't mind spending a bit of cash there's Moby Dick, or The Whale, by Herman Melville (Audiobook) priced at $3.99. It's an unabridged version with duration of 24 hours and 30 minutes and compatible with iPhone, iPod touch and iPad running iOS 3.1 or later. This app has HD support, background audio playback support (for iOS 4) and original text and as the audio files are a significant size you are requested to be patient during downloading.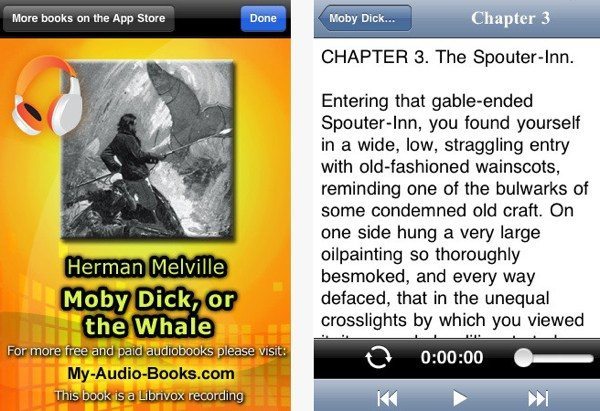 The next app is Moby-Dick (by Herman Melville) by Blackstone Audio. This one is priced at $18.99 and for iPhone, iPod touch and iPad running iOS 4.2 or later. This is detailed as a premium unabridged version of Moby Dick with high-quality audio and has extra features and content to maximize your Moby Dick experience. There's support for VoiceOver and it was recorded by award-winning narrator Anthony Heald. Extras include in-depth character analyses, discussions of themes, bonus essays, image galleries, word search puzzles, trivia games, a sleep timer, offline listening, auto-bookmarking and much, much more.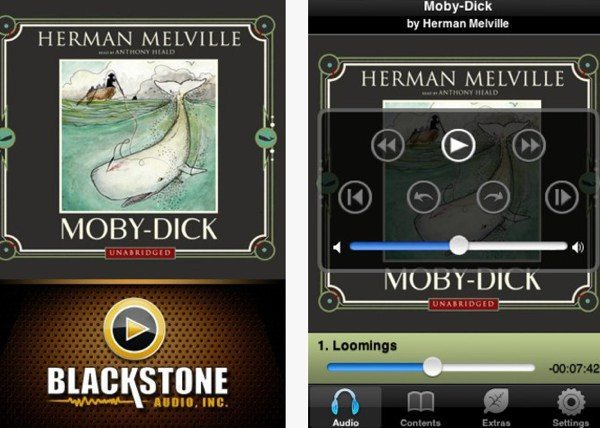 If you're studying Moby Dick another good app for you would be the Moby Dick Study Guide & Quiz-o-Rama by Shmoop University Inc., priced at $1.99. This is compatible with iPhone, iPod touch and iPad running iOS 3.0 or later. The content has in-depth analysis of everything to do with the novel and would suit life-long learners, students and also teachers. The Quiz-o-Rama is a pre-test preview with a leaderboard to test your wits against others.
Our final suggestion is Moby Dick — HD by Ave!Comics Production, which is in a comic-book format. This one is for iPads running iOS 3.2 or later and priced at $3.99. It's an animated digital version of the entire comic book and features kinematics creating an animated path through the story. There's also an exploration mode, easy navigation, page mode and full support for multi-touch, swipe and landscape mode.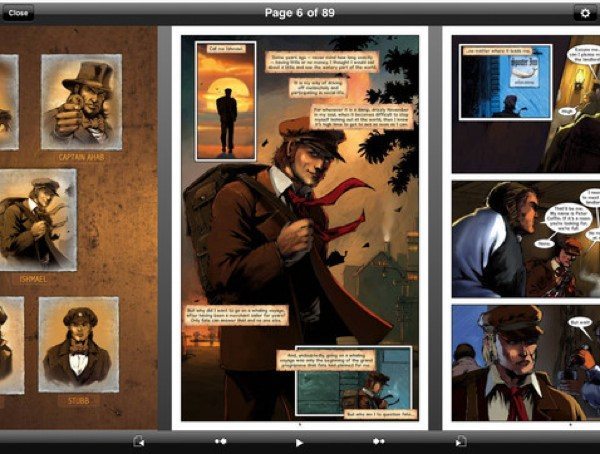 That completes our look at Moby Dick apps and we hope that among our choices you find one that suits your needs. We'd like to hear your opinions on today's Google Doodle or any of these apps so let us have your comments. Maybe you have another good Moby Dick app to recommend?