Samsung Galaxy Note 2 vs Google LG Nexus 4, official against unofficial
The Samsung Galaxy Note 2 has already been released in some regions although the US is still waiting for the much-anticipated phablet to reach the shelves. It could have a contender though in the form of the LG Nexus 4, a pure Google Android phone set to be unveiled on October 29. We thought we'd take a look at the Samsung Galaxy Note 2 vs. Google LG Nexus 4, although at this point we're using official specs for the Note 2 and unofficial specs for the Nexus 4.
The Galaxy Note 2 is already a huge hit following the success of its predecessor, the original Galaxy Note, and will arrive in the US on multiple carriers at the end of this month. However there are many people who prefer a pure Android experience and that's where the LG Nexus 4 comes in. As the Galaxy Note 2 is already announced we have confirmed specs but as the LG Nexus 4, thought to be the next Nexus phone, has not been officially detailed we can only give you details of what is expected and has been leaked.
Even the Nexus 4 name is not yet set in stone but looks to be the most likely moniker for when it eventually arrives, hopefully soon after that October 29 event. Let's take a look at what the Galaxy Note 2 offers and what we expect from the Nexus 4, in the way of some key specs.
Processor
The Galaxy Note 2 has a 1.6GHz Exynos 4412 quad-core processor and Mali-400MP GPU, while the LG Nexus 4 should have a 1.5GHz Snapdragon S4 Pro quad-core processor and Adreno 320 graphics.
Display
The Galaxy Note 2 has a 5.5-inch Super AMOLED display with resolution of 1280 x 720 and 267ppi. The Nexus 4 is likely to have a 4.7-inch True IPS display with resolution of 1280 x 768 and 320ppi. That means the Nexus 4 display could be as good as the Retina Display of the iPhone so this is a real plus point.
RAM and Storage
Samsung's flagship Note 2 has 2GB of RAM with 16,32 or 64GB internal storage options, expandable via micro SD. As for the Nexus 4 this has 2GB of RAM also but there was a huge amount of concern caused when it was recently leaked that it would only have 8GB of internal storage and that would be non-expandable. However news from GSM Arena gives us some hope as it seems someone described as a "reasonably reliable source" of product leaks on Twitter has posted details to say that there will also be a 16GB option of the Nexus 4, although this may not appease many as it's still not thought to be expandable.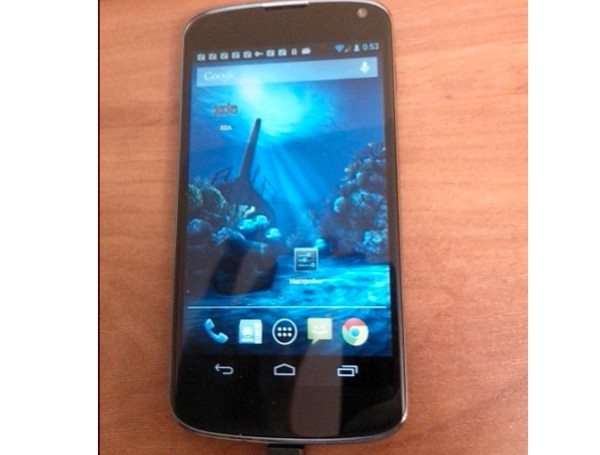 Camera
The Note 2 has an 8-megapixel rear camera with autofocus, LED flash and 1080p video capture along with a 1.9-megapixel front-facing camera. The LG Nexus 4 on the other hand is thought to have an 8-megapixel rear camera and 1.3-megapixel front-facer.
Operating system
The Android 4.1.1 Jelly Bean OS will be running the Galaxy Note 2 skinned with Samsung's TouchWiz UI. The Nexus 4 may also run 4.1 Jelly Bean but there has also been rumor that it could arrive running Android 4.2. Of course the Nexus 4 won't be touched by a UI and instead will offer the pure smooth Google Android experience admired by many.
Battery
A whopping 3100mAh battery powers the Galaxy Note 2 while the Nexus 4 will have a 2100mAh battery.
Dimensions and weight
The Galaxy Note 2 measures 151.1mm x 80.5mm x 9.4mm and weighs 183g. We don't have complete measurements yet for the Nexus 4 although it's thought to be 9.1mm thick and weighs only 139g and that's quite a significant difference for the portability factor.
As well as using leaked specs that we had already heard of for the Nexus 4 we have also added to them with further details from a Gotta Be Mobile comparison. We should also point out that the Galaxy Note 2 has an S-Pen stylus and NFC support. Hopefully on October 29 we'll be finding out all the confirmed specs for the Nexus 4 as well as further features, release, carriers and pricing but at least for now this gives some idea of what you can expect. You may decide to race out and buy the Galaxy Note 2 or stick around a few days later to hear more about the Nexus 4.
To be fair these are both highly notable phones with plenty to recommend for each of them. The display and lightness of the Nexus 4 could swing it for some although the better internal storage and larger display for the Galaxy Note 2 could determine this choice for others. We'd like to know what you think of these two phones.
Have you already made up your mind to purchase the Galaxy Note 2 later this month? Maybe you'll wait a little longer to find out further details of the LG Nexus 4, or you may have another smartphone altogether in mind? Let us know with your comments.