iPad Gaming Wheel from Indiegogo seeks funding: Update
An interesting concept pops up on the crowd-funding platform Indiegogo. A new startup presented their first product — an iPad gaming steering wheel. This is one of the best products we have seen in a while for the iPad, and yes it fits all of them.
They claim it is the first of its kind and frankly, we haven't seen anything like it. The steering wheel firmly fits iPad 2 and the new iPad 3rd and 4th generation. You can comfortably control racing, flying or other accelerometer/gyroscope enabled iOS games using the anti-perspirant steering wheel. It can also be used with the dedicated base and clamping system for playing all one-finger games.
(Pricing has changed, please look at update below) The funding goal is set at $150,000 and the prices start from $65 for a steering wheel only (retail should be at least $99,95) and $99 for the full package, containing a steering wheel, a base and a clamping system, which should retail for at least $149,95. You can pre-order your own right here at Indiegogo, at the moment the page is in draft but as from November 5th you should be able to see the page up, but PLEASE do bookmark this page and check it as from November 5th, this is a very good product.
We have been told that this will launch as said above from 5th November, 15:00 PM London time, we are looking forward to this and will of course ask them to send us one for review.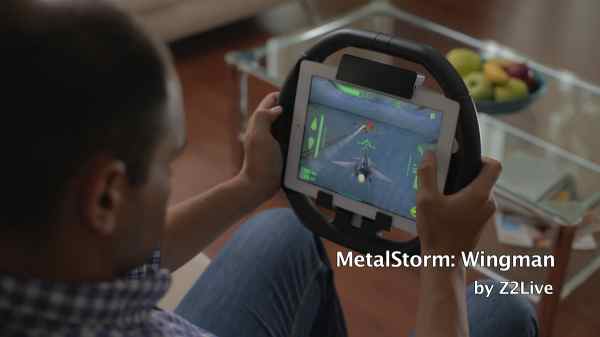 The reason we here at Phones Review loves it so much is that you can place your iPad in a fixed position and play any game as it is a great platform for comfort, no more aching arms.
Please let us know what you think in the comments area provided below, if you would like to see more pictures please visit right here. Oh and just to give you more of an idea about the new iPad Kolos Wheel please watch the video provided below, enjoy.
UPDATE: We have had an email update, please read below
Hello again Phones Review,

Just a little reminder, we launch today 15:00 London Time.

Here is the link to the campaign: http://www.indiegogo.com/koloswheel

We made a little correction to the price, because we want to be more competitive when creating this niche product:

The Indiegogo prices now start from:
$50 for a steering wheel only, retail will be at least $69,95
$85 for the Full Pack (steering wheel, base and clamp), retail will be at least $120

Please follow up so people are aware of the actual launch and new price.