Asus Transformer Pad Infinity v10.4.4.18 and missing features
If you are the proud owner of an Asus Transformer Pad Infinity tablet, Asus has treated you to another software update for the TF700T. The firmware v10.4.4.18, which is for the United States, China, Japan, Taiwan and global variants of the tablet. You'll also be pleased to know that the full changelog has been made available as well.
We have previously covered the Asus Transformer Pad Infinity v.10.4.4.18 changelog, but we have put a recap below in case you missed it.
Camera: fixes the problem that in certain 'aspect ratio' and 'picture size' photo, the pixel dimension of the picture that would be different if taken in portrait or landscape mode; WiFi Direct: fine tuned WiFi Direct connection behaviour.
The update improves on Bluetooth compatibility, fixes the lingering issue 'Turning WiFi on' status, fixes the lingering problem with backup success status when the user removed the SD card during the backup process.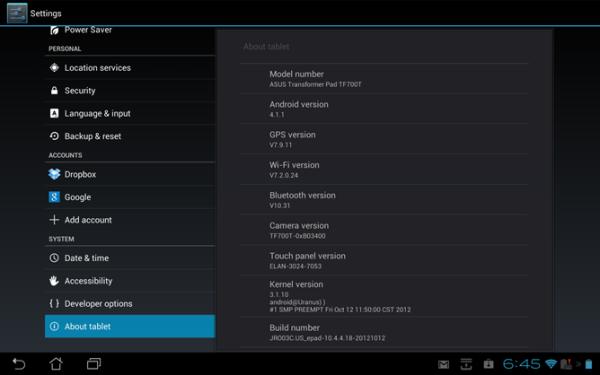 When it comes to Settings, the update fixes the problem that during HDMI output, the output screen gets cropped after choosing 'HDMI' item in 'Settings'. Fixes the screen flicker issue when rotating the slate after adjusting the brightness bar, and fixes the no items problem in HDMI settings page when output via HDMI.
v10.4.4.18 also fixes garbles typing results when selecting English after Chinese with Zuyin IME, and also fixes unplayable Sound Recorder file when inserted into Supernote.
However, it appears that the v10.4.4.18 update doesn't bring that many improvements, whilst we have heard via one user that grabbed the update who claims it bricked the Android slate, so we'd like to hear from anyone else who might have experienced problems with the update.
Furthermore, don't you think it is about time Asus updated the Transformer Prime because every since the Android Jelly Bean update the battery life has been horrible.