Droid Razr M owners savoring Jelly Bean update now
At Phones Review we try to keep readers informed when operating system updates become available for their phones. Today there's good news if you're the owner of a Motorola Droid RAZR M smartphone on Verizon as the Android 4.1 Jelly Bean update has now officially begun rolling out.
Recently we told readers that three of the Motorola devices that would definitely be receiving the Jelly Bean update were the Droid RAZR M, the Droid RAZR HD and the Droid RAZR MAXX HD. Following that we gave details on the latest news from Motorola regarding which of its devices would receive the Jelly Bean update and which would not and some more phones had been added to the list as well as devices that would definitely not be tasting Jelly Bean. As far as knowing when the update would arrive though the only info we had for the Droid RAZR M is that it would come before 2013.
Many of you will be pleased to learn then that on Friday Motorola announced that Jelly Bean for the Droid RAZR M was now being pushed out. Although the rollout has now begun there is no timescale mentioned for when the rollout will be concluded although Motorola has stated that the update will come in phases according to PC Mag. A support document from Verizon has been made available and the Jelly Bean update is 254.1MBs and depending on network conditions could take up to 30 minutes to download. Following this, installation will take around 15-30 minutes more and you should be aware that you will not be able to make or receive calls to your device during that time.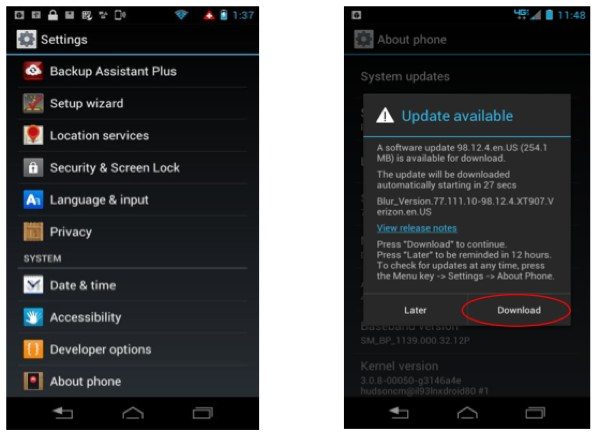 You will either receive notification for the over-the-air (OTA) update or can check manually by hitting the Menu Key then Settings, About Phone, System Updates and finally Download. After the download is completed then hit Install now. At this point your phone will power off and then back on and you will see a progress bar with an installation icon. When this is complete your phone will power off and then back on again to finalize the procedure. You will then see a confirmation that your updated install was successful at which point simply tap OK.
Jelly Bean will bring you plenty of neat improvements and new features including Google Now, improved notifications, Voice Search, Android Beam and better text prediction functionality and we would like to hear what you think about Jelly Bean. Also we'd like to get an idea of how quickly the update is rolling out so perhaps you could let us know once you receive the Jelly Bean update? Send us your comments about this.