Samsung Galaxy Beam is mediocre at best but fun
We're giving readers details about many of the smartphones around right now for the holiday season and today it's the turn of the Samsung Galaxy Beam, which could be described very much as a 'niche' device. This smartphone has a unique appeal to some people as it includes a built-in TI DLP pico projector, handy for those many moments when you might wish you had a projector handy (sarcasm). The trouble is that without the projector it's a mediocre device although many might say it's fun.
We may have been being sarcastic when we said about those moments we all wish we had a projector to hand but of course just because we can't think of ever having had one of those moments that doesn't mean to say that some people might not appreciate it. Those are the people that the Galaxy Beam is aimed at, those who may want to make a PowerPoint presentation at work for example and have mislaid the projector. You'll see the projector at the top of the Galaxy Beam but this means the back camera and flash have been lowered from the usual position and the earphone jack is to one side and none of this is particularly convenient.
That said, the 15-lumen DLP nHD pico projector (640 x 360) does a good job in a dark room and is easy to use resulting in crisp images although this has a heavy impact on the battery life of the phone. Users can project images up to 50-inches in size with clarity maintained up to six feet away and video and audio quality are both good. However is this enough when considering the other specs of the Galaxy Beam, which are distinctly underwhelming.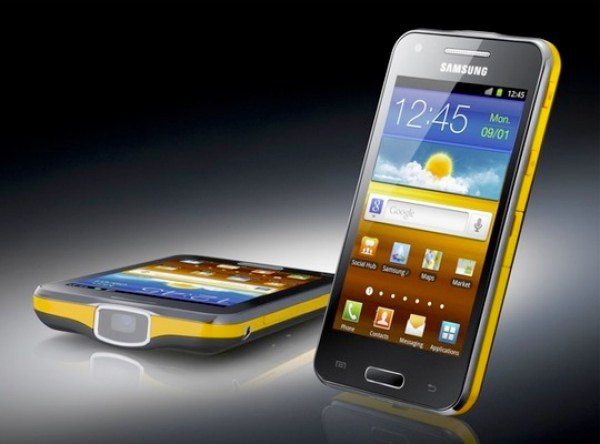 Other specs and features for instance include a 1GHz NovaThor dual-core processor, 4-inch TFT display with resolution of 800 x 480, 768MB of RAM and 8GB of internal storage (expandable via microSD to 32GB). The Galaxy Beam also has a 5-megapixel rear camera with 720p video capture and also a 1.3-megapixel front-facing camera, runs Android 2.3.6 Gingerbread (upgradable to 4.1 Jelly Bean) and has a 2000mAh battery. The design is also nothing to write home about as it comes in charcoal with a rather gaudy yellow band but the plastic is at least textured giving a better grip.
Prices vary by region but in the UK it costs around £270, equivalent to around $430, as reported by Engadget. Those in the US can import the Galaxy Beam unlocked, with 3G compatible with AT&T. Without the projector nobody should even consider paying that amount for the Galaxy Beam given such mediocre specs but does the projector make it worth it? To be frank, we don't think so, although of course many people may think otherwise and may find they get enough fun out of having a convenient projector to make it worthwhile.
We're interested to hear your thoughts on the Samsung Galaxy Beam. Maybe you already have one and would recommend it (or not) to our readers? Perhaps you feel that if the specs were improved it might be worth the money? Alternatively you might think that the projector element of the phone is a novelty but not much more? Let us know with your comments.