Vuzix Smart Glasses M100 specs, great smartphone partnership
As well as all the usual new product news at Phones Review we also like to bring readers details of new and innovative products and gadgets. Meet the Vuzix Smart Glasses M100 and we have specs and info about these glasses and how they make a great smartphone partnership by offering an intelligent hands-free display.
The Vuzix Smart Glasses M100 are an enhanced display system and communications system that enables users to get on-the-move data access from the Internet and their smartphones. They are expected to ship in mid-2013 and this wireless personal information system runs Android apps and also offers texts, video, mapping, email and more through a smartphone or other compatible device with a visual connection to the Cloud. They feature an integrated head tracker, GPS and an integrated camera enabling video recording as well as still image capture. A micro CF slot supporting up to 8GB of memory can be used to store video capture. Using the Smart Glasses M100 with smartphone apps and the Cloud will mean that first-person augmented reality is here.
The hands-free Smart Glasses are modeled on a standard Bluetooth smartphone system and builds on this design with a display arm and camera. They can be worn over either eye and can be mounted over the ear, over the head or behind the head and Cloud connection is enabled through Bluetooth and Wi-Fi connectivity to a smartphone. The Smart Glasses support voice and gesture commands as well as app control through smartphone software and a speaker and noise-canceling microphone are also included.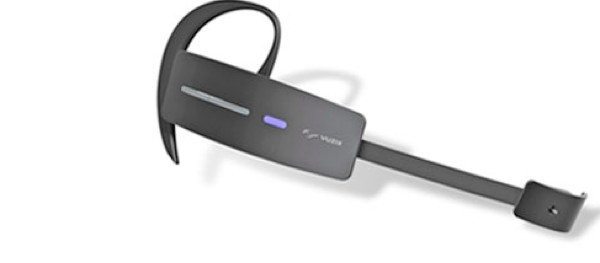 There's also a 16:9 WQVGA full color display positioned in front of your eye with the display arm and on this you can see your smartphone display and basic web content as well as other data. The Smart Glasses M100 use the Android operating system and a dedicated processor and Android apps can be downloaded directly to the glasses. Alternatively both Android and iOS apps can be wirelessly linked through Bluetooth and Wi-Fi to the glasses. As well as this onboard or remote apps specifically designed for smart glasses can also be used. The integrated head tracker can decipher your current view direction and also movement while integrated GPS determines global positioning meaning that with the use of the camera, actions relevant to your environment can be seamlessly enabled.
Key specs and features of the Smart Glasses M100 include a 1GHz OMAP4430 processor, WQVGA color display with 16:9 aspect ratio and 16 degree field of view, >2000 nits Brightness, 24 bit color, Android ICS, 4GB flash and external Micro Flash slot. There's also a battery providing around 8 hours of hands-free use, 2 hours of hands-free plus display or one hour of hands-free plus display plus camera. These smart glasses also have a 720p HD camera, micro CF slot, Wi-Fi 802.11 a/b/g/n and Bluetooth.
For more info check out this Vuzix link and developers out there may be interested to hear that Vuzix will soon release a Vuzix Smart Glasses SDK, due in December 2012. The SDK is priced at $999 and for this developers will also receive an early production release of the Smart Glasses M100. A Developer SDK information request form can be found at the above link.
We'd like to hear your thoughts on these innovative smart glasses. Can you imagine using these on a practical day-by-day basis? When they reach a release do you think you'd be interested in purchasing them? Send your comments to let us know.