Motorola Smartphone Trade Up, used for new with rebate
Motorola device users will no doubt know that some Motorola handsets will not be gaining an update to Android Jelly Bean, meaning they will forever be stuck on Android Ice Cream Sandwich or lower, much to their annoyance no doubt. However, Motorola has now revealed their smartphone trade up program for those that will not see the Android 4.1 update.
According to a report by Talk Android, Android users that own the likes of such Motorola handsets as the Motorola Atrix 2, Atrix 4G, Motorola Admiral, Droid X2, Motorola Droid 3, Photon 4G, Electrify, Motorola Cliq 2, Triumph, Motorola Titanium and Motorola XPRT, Milestone X2 and Milestone 3 can gain a $100 rebate against a new handset.
However, there is a bit of a down side to this trade up deal, and that is when trading up your eligible smartphone you wont receive an up front $100 cash rebate but rather a rebate card, that can be used for paying bills, or buying accessories and the like, so it is a bit of a downer.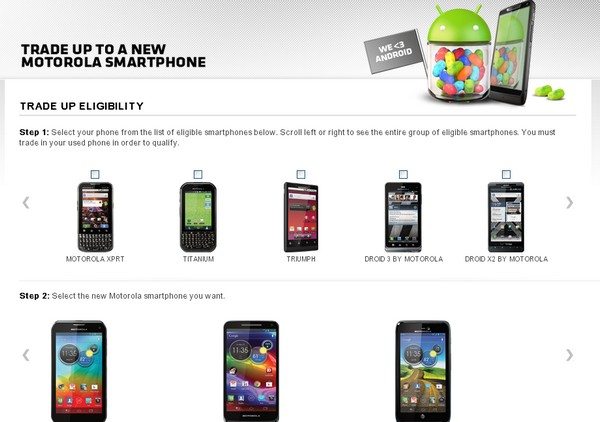 Of course you must trade in your used smartphone to qualify for the rebate when opting to choose one of the many smartphones Motorola has in the trade up program, such as the Motorola Droid RAZR HD, Droid RAZR M, Droid RAZR MAXX HD, Atrix HD, Photon Q, and Electrify 2, so you can play along with Android Jelly Bean.
Currently the trade up program is only available in the United States, via Mototradeup, but Motorola has said they will make the program available in other counties at some point in the future.
The rebate card is provided in the form of either a Verizon Wireless gift card, Motorola Visa prepaid card, carrier credit, or other equivalent at the sole discretion of Motorola. Well at least Motorola is trying to compensate those customers that are missing out on Android Jelly Bean, so that's not a bad thing right?
So will any of our US readers that own one of the eligible smartphones be taking advantage of Motorola's trade up program?