Thanksgiving 2012 recipe apps to make life easier
In only a few days time millions of people across the US will be celebrating Thanksgiving 2012 by having their families and friends around, and if you are the person that is responsible for creating this year's Thanksgiving meal you are likely to have many hungry stomachs to fill. To try and make things a little easier we thought we would point you in the direction of some great Thanksgiving recipe apps for the iPhone and Android platforms.
First up for iOS users is the free Thanksgiving Recipe application that helps users find delicious recipes such as Garlic Mashed potatoes, Heritage Turkey, Butternut Squash Soup, Spiced Wine, and many more. All the ingredients are shown along with step by step instructions, and to find out more or to download head over to the App Store.
Next we have the Thanksgiving Menu Maker from Fine Cooking application that is also a free iOS offering. This application will help you surprise your family and friends with your clever creations and contains fifteen recipes from turkey, soups, gravy, and even desserts. This again can be found over in the App Store.
Another offering from the Apple App Store is Thanksgiving Recipes HD that promises to help users out even if they are pressed for time, and will even show how to make a turducken that is made up of a chicken inside a duck that is inside a turkey. There are even recipes for creating a vegan meal along with showing you how to carve the perfect turkey, and much more and this is priced at $1.99.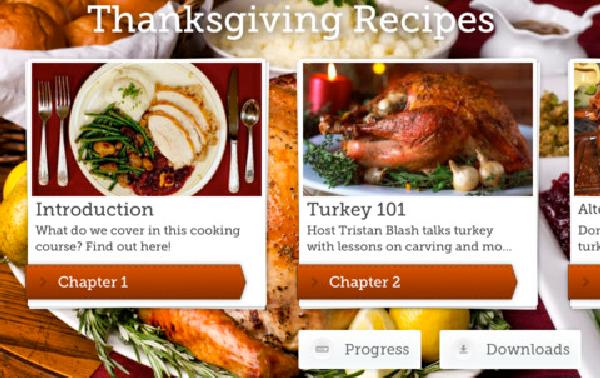 First up for Android users is the free Thanksgiving Recipes application that features a number of different recipes from the turkey itself to pumpkin pie, and uses a Spin Wheel so users can cycle through all the available recipes. They are all easy to create with a list of all the ingredients needed along with directions, and to find out more head over to Google Play.
Another free Android application is Thanksgiving Recipes & more that has recipes for appetizers, bread, side dishes, desserts, and there are also some craft ideas, games, and activities. Hit Google Play to find out more and to download.
An application that is also currently free for a limited time is Turkey and is the must have application for this time of year. It has numerous recipes for all that leftover turkey and more and grab it quick from the Google Play Store while it's still available free.
Do you know of any other great Thanksgiving apps?