Nexus 4 stock availability alert with constant updates
Those waiting on the new LG Nexus 4 Android smartphone are well aware that stocks over on Google Play ran out super fast, and at the moment no one knows when new stock will be available. We have mentioned before that there could be a 3-week delay and if this is the case it looks like new stock will arrive in December.
If like we said above that stock may arrive in December surely this means once the Nexus 4 has been shipped purchasers will not receive the handset in their hands until after Christmas Day and then we have the holidays, making us believe delivery after the New Year.
If you visit Google Play Nexus 4 pages you will see that they are out of stock, hitting that refresh button all the time in your Web Browser is a pain in the backside so something is needed so that you can be notified on your Android device of when stock arrives, say hello to "Nexus 4 Stock Alert by Maor Z" This is what's needed for constant updates whilst on the go, no need to visit Google Play anymore unless its in stock and you want to buy a Nexus 4 by LG.
The new Nexus 4 Stock Alert for Android users is now available to download and once installed it will add a little star at the top of your handset, which will turn yellow as well as letting off an audible alert letting you know that the Nexus 4 is now in stock via the Google Play Store. This app checks the Google Play Store Nexus 4 link at what ever time you have set to be notified, the question is there is no stock and when there is will this app actually work, remains to be seen but well worth trying seeing as the application is free.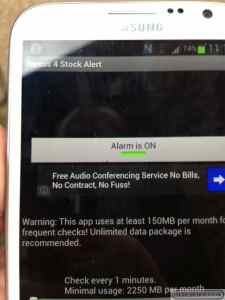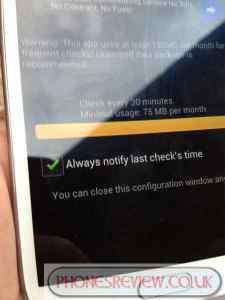 We have taken some screenshots (See above and below) running on the Samsung Galaxy Note 2, if you run this for every 30 minutes it will use 75MB of data per month, run it for 15 minutes and it will swallow 150 per month and if your crazy enough to run every minute then you will use about 2250MB of data per month.
We tried this here in the UK on our Samsung galaxy Note 2, and for some reason the star does not appear at the top in the notifications area.
This Nexus 4 Stock Alert app provides alerts on your phone when stock is available, as said above we are not too sure if this works in the UK as we cannot see the star alert symbol unless it only pops up when stock is in, but apparently it works in what ever country you are in etc. PLEASE remember the warning that this will eat through your MB of data per month, even after we rebooted we do not get any indication it is good or not and if it will work.
Please do let us know if you have installed the Nexus 4 Stock Alert app, if you have we would love to know if it works for you?