Nexus 4 wearing white, evidence of December arrival
The LG Nexus 4 smartphone, sometimes referred to as the Google Nexus 4, is undoubtedly one of the smash hits of the year although in some ways it has become a victim of its own high-end specs and extremely reasonable price. The phone sold out within minutes of going on sale through the Google Play Store last week but if you're one of the many disappointed customers who haven't managed to order one yet, news today may tempt you to hold off as there's growing evidence that a white color option might be on its way.
Currently the Google Play Store still lists the Nexus 4 as being sold out in both the 8GB and 16GB version and some orders that people thought they would have in their hands within days may be delayed for up to three weeks. Google must be desperately endeavouring to obtain more stock and it's very likely, from the phenomenal demand reported, that this will also sell out extremely quickly. Although official listings for the Nexus 4 show the handset only available in black, regular readers of Phones Review may recall that a week ago we posted an article regarding a possible white version.
Carphone Warehouse in the UK showed options of black or white on its dedicated Nexus 4 product page although the white option seems to have been removed now. This could of course have been a simple mistake but it could also mean a white version is coming at some point. Whether this would be available exclusively to Carphone Warehouse or whether it would be on sale in other regions was not known although we think there would be a huge demand for a white Nexus 4.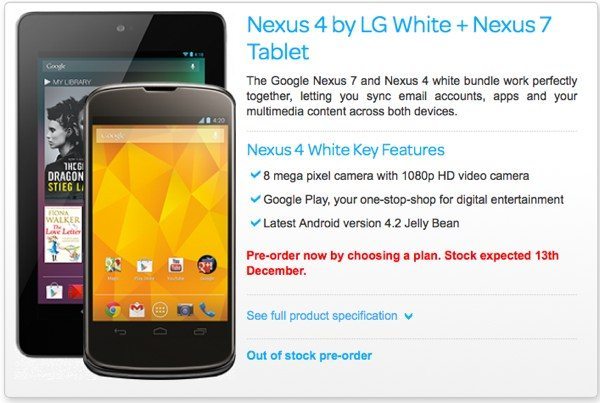 Now though there has been another sighting of the white Nexus 4, this time for another UK operator Talk Talk, as reported by Android Central. On its website Talk Talk lists a bundle for the Nexus 4 by LG in White plus the Nexus 7 tablet. There's an option to pre-order with various price plans and text saying that stock is expected by December13. Another UK operator, O2, has UK exclusivity for the Nexus 4 until that very date so this does seem plausible. As yet no images of a white Nexus 4 have slipped out but this latest sighting does seem to support the release of a Nexus 4 in white.
There will be an awful lot of potential customers interested in this as it opens up more chance of getting their hands on a Nexus 4, although we'd imagine there would be a massive demand for it, if indeed a white version does hit the shelves. We suspect that many readers would like to see a white Nexus 4 launched in other regions too so we'll be keeping a close eye on this and will pass on further news as we hear it. While you're waiting you may be interested in a previous article of ours rounding up review verdicts for the Nexus 4.
Would you like to get your hands on the Nexus 4 in white? It looks increasingly likely for the UK at least but perhaps you are in another region and want to see it released there too? Send your comments to let us know.