White Nexus 4 could release soon
The latest range of new Google Nexus devices became available for ordering and early deliveries yesterday, with the LG Nexus 4 seemingly proving to be extremely popular. Various countries have seen the handset sell out of stock via Google Play, but now it seems a white Nexus 4 could be releasing soon if a UK retailer is correct.
Within hours both versions of the Nexus 4 had sold out in the UK with Android fans eager to pick up the spec worthy handset unlocked from only £239 for the 8GB model. Now though as it is being reported by Phonearena we may be about to see a white version become available.
It may just be a simple mistake but UK retailer the Carphone Warehouse is showing a white option for the smartphone on its dedicated Nexus 4 page. So far the only colour that has been available from any retailer is black, and when you try and select the white option the image of the black model disappears and isn't replaced by a white version.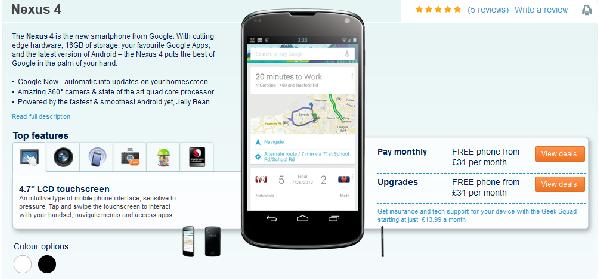 The retailer was responsible for leaking some pricing before the handset was officially announced, but the white colour option may be an exclusive to the company as it has had similar options in the past for other smartphones in the UK.
Consumers can pick up a Nexus 4 from the retailer for free starting on price plans beginning at £31 per month from the likes of Three, O2, and Vodafone, but it remains to be seen if this is just a mistake or indeed a white Nexus 4 is on its way, and if so there will be many hoping it's available everywhere.
Have you already got your Nexus 4 but would have liked a white version?