BBM 7 Beta WiFi Voice Chats eradicates long-distance charges
There are still quite a few BlackBerry loyalists out there that use RIM's chat client BlackBerry Messenger, and they will be pleased to hear that the Canadian company has now introduced version 7 of BBM. BBM 7 Beta delivers updated features to the chat client, including the new BBM Voice feature, which enables the BlackBerry user to start a voice conversation with friends over WiFi for free.
According to a report by Crackberry, when a user is in any BlackBerry Messenger conversation, to start a voice call all they need to do is tap the call button, enabling you to hear who you are chatting with rather than just reading their messages.
The new BBM 7 with BBM Voice will allow all customers to make free voice calls to other BBM customers over a WiFi connection anywhere in the world without incurring charges, so would be ideal for making long distance calls.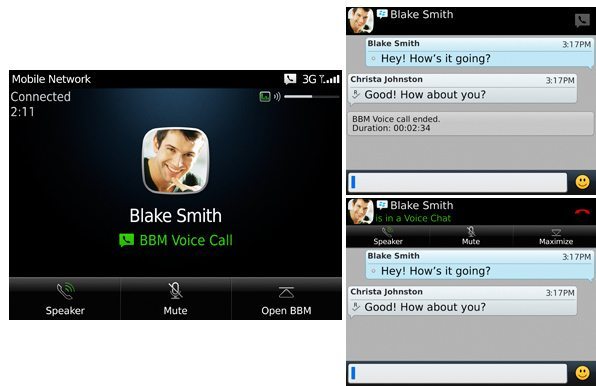 In BBM 7 the user will also be able to see user statuses so they will know who is available to voice call and who isn't, and when a user calls they are presented with a split screen, enabling the user to still use any other application. Thus you can use the chat function along with still being able to use the browser, check on emails, or send images within BBM.
The new BBM Voice feature will offer an attractive way to talk with fiends and family that are near or far away, especially in developing markets.
BBM Voice is also compatible with any accessories a user currently has for making voice calls via their BlackBerry smartphone, such as a wired or Bluetooth headset, and BBM Voice can also be used via the handset's speakerphone.
BBM 7 with the BBM Voice feature is available in Beta for handsets running BlackBerry 6 OS and above, and can be downloaded from BlackBerry Beta Zone.