LG Nexus 4 price leaked before release
In the smartphone world recently one of the worst kept secrets is the upcoming Nexus device from LG, which has been the centre of numerous leaks and images of the past couple of weeks. Now we have news of the LG Nexus 4 price being leaked before the smartphone see's a release.
The handset was originally thought to be unveiled tomorrow at the Google Android event in New York, but this has been cancelled thanks to the threat of Hurricane Sandy. Now as the Android Authority is reporting it just allows for more leaks about the handset to emerge, and the latest one is seemingly showing the UK pricing for the LG Nexus 4.
UK retailer the Carphone Warehouse has supposedly made up some display adverts for the device that shows the pricing for the device and was seen in a local store. As it can be seen from the image below the device will be available free when taken with a new contract costing from £31 per month, or if it is a SIM free version you are after this will cost you £389.95.
This comes after the retailer had previously put up a pre-order page on its website before pulling it a few hours later, and these latest images are from the same source that have been leaked previously via @evleaks Twitter account.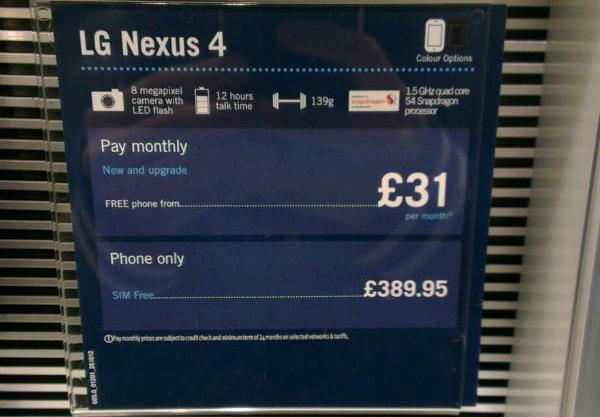 According to the promotional advertising by the retailer the LG Nexus 4 will use a quad core Snapdragon S4 processor clocked at 1.5GHz running Android 4.1 Jelly Bean, and will also feature an eight megapixel rear camera coupled with a LED flash.
This follows news yesterday that a prototype of the LG Nexus 4 was left behind in a bar in San Francisco before eventually being reunited with Google, but not before a number of images and even a video were taken of the device.
Will you be getting the LG Nexus 4?