LG Nexus 4 press images jump the gun before release
There have been a few new mobile tech products in the last few weeks that have seen numerous leaks, with not many surprises when the device is officially announced, and this is certainly the case with the LG Nexus 4 with some press images now being leaked before the device is released.
Today some more images have appeared of the LG Nexus 4, and as TechRadar are reporting these latest ones look to be the official press shot. The handset has seemingly changed a little since it was last seen with some new Nexus branding on the rear of the smartphone, but the three icons can still be seen underneath the screen.
This latest image has originated from the Twitter account of @evleaks, and what is set to become LG's first Google Nexus handset hasn't exactly been kept secret with even the company's own executives telling reporters the device will be unveiled at Monday's Google event.
Amit Gujral of LG in India was quoted as saying to IBN Live that the handset will be launched next week at the event, but an LG spokesperson backtracked and said later that Amit Gujral had actually been misquoted.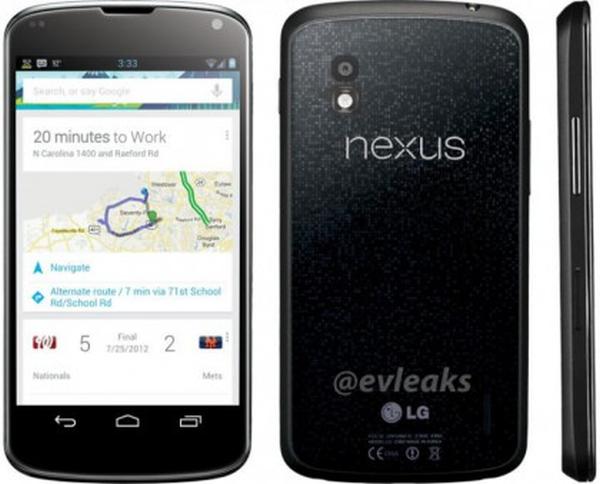 A number of leaks over the past couple of weeks have suggested the LG Nexus 4 will feature a 4.7-inch display with a quad core processor clocked at 1.5GHz under the hood, which will be running the Android 4.2 operating system that will also be announced at the event.
There have been reports the device may come with either an eight megapixel camera, or a thirteen megapixel shooter depending on the region, and 2GB of RAM with either 8GB or 16GB of on board storage.
Google is also thought to be making changes to its Nexus program opening it up to numerous manufacturers; on condition they meet certain criteria. Will you be getting a new Nexus device soon?