Top Flight Tracker Apps for iPad
Is this scene familiar to you: on the day of your business trip you run a little behind in the morning and spend the two hours rushing to get out of the house, fighting traffic, struggling for a parking spot then running as quickly as you can dragging luggage behind you, only to find out upon check in that your flight has been delayed several hours? Unfortunately, this scene is all too common and with new flight tracker apps for your iPad device these situations may be averted by keeping up to date with weather conditions, flight status, and even parking.
Here are the top flight tracker apps for iPad, please do let us know if you use any of these apps below and of course if you know of any better ones that we have not mentioned?
FlightAware Flight Tracker
Flight Aware Flight Tracker may be the best app available for the iPad right now. Just enter the flight number and airline into the app it will allow you to track your flight's status. It will provide you with real time information on very specific information such as its current location and even altitude and speed. More importantly it can tell you the point of origin and destination for that particular flight. If you do not have the flight number, but have only the tail number of the airplane that works as well. Just type in the tail number in the search criteria and it will give you a number of flight numbers that it has flown under in recent history and you can click to view details on any one of them.
If you are looking for a flight but do not know the plane specifics such as the flight number or the tail number, you can do a search based on the airline, the origin and the destination of the flight you wish to find. If you need forecast information for the weather, FlightAware Flight Tracker can find the weather forecasts for not only your current local location, but also for locations you may need to visit for you layovers and your destination, with updates on any emergency alerts or warnings for bad weather in the area. You can also sync your data with TripIt and if you wish to share your traveling status with your friends and contacts, you can use application to update your flight status by email, Facebook or Twitter. With over 1,400 airlines at over 16,000 airports, FlightAware Flight Tracker is a great companion app for travelers both domestic and international.
Flight Update Pro
Flight Update Pro is a great tool flight tracker app for frequent flyers who wish to use an app to not only track specific flight information but to also help them with planning their itinerary. Users of Flight Update Pro can leverage their travel information saved in TripIt and mesh your flight information data with your day-to-day scheduled plans for your trip. In addition to individual flight and airplane specific information, Flight Update Pro also provides you with terminal and gate information and baggage claim information.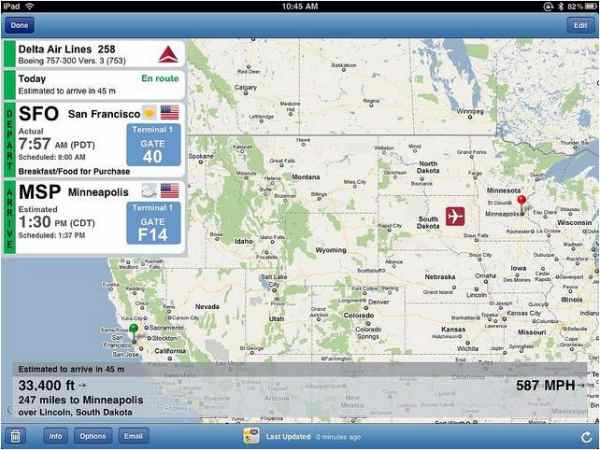 Flight Track Update Pro is unique is that it provides push notifications for any changes to your departure and arrival times and gate changes. You can also sync up your phone's calendar to your flight information, and the app also provides Calendar Mirroring for your in-app calendar and your iPad calendar. One of the other major features of Flight Update Pro is that it has an advanced flight search features that will allow you to search on more flights than other flight tracker apps. Not only can you search for directly connecting flights, but you can also search for flights that indirectly connect you to your departure point and destination point.