BlackBerry 10 FaceFlow is the Skype alternative
We've discussed the future of RIM's BlackBerry platform many times now and to us it seems to be very much the case that everything is riding on BlackBerry 10, the new upcoming operating system, and the devices that will run it. It seems a promising sign then that developers are thinking ahead to BlackBerry 10 and Skype alternative FaceFlow is one app that has already been announced as coming to the new OS.
FaceFlow is a popular cross-platform voice chat, video chat, group video chat and instant message site, similar to Skype. You can sign up free using a browser and download the free desktop version plus mobile apps. If you visit the FaceFlow site here and hit the mobile tab you'll see download links for the Android and iOS apps but the significant thing to us is that a message also reads "Make calls and video calls to any other FaceFlow users – on any device. (FaceFlow for BlackBerry 10 will also be available!) Coming early 2013."
That certainly spells out that BlackBerry 10 is already being thought of as a relevant, valid platform by FaceFlow and hopefully many more developers are already following suit or about to. BlackBerry 10 is to be officially launched at an event on January 30, 2013 and we expect the first BlackBerry 10 devices to follow in February. That means we could see FaceFlow for BlackBerry 10 as early as February 2013 but watch this space.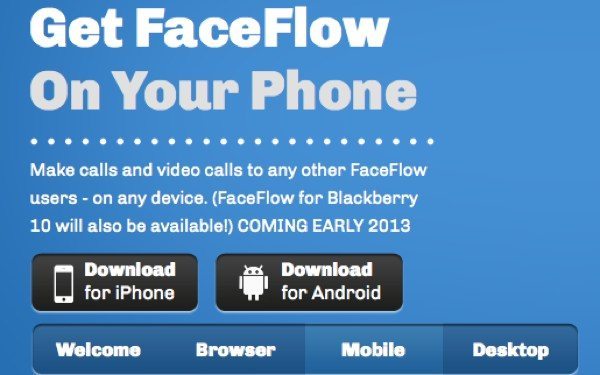 Some features of FaceFlow include free video chat sessions by sharing your call link with friends and family, full screen mode, instant messaging, and video conferencing with many people at once, all for free. It's certainly good news to see developers such as FaceFlow viewing BlackBerry 10 in a positive way and we can only hope that continues once the new OS is officially launched.
Are you waiting eagerly for the launch of BlackBerry 10 and the devices that will run it? Do you think it's promising that developers are already getting involved? Why not let us know your thoughts on FaceFlow or BlackBerry 10 by sending us your comments.