Samsung Galaxy Note 2 gets Mugen boost, whopping 6400 mAh battery
The Samsung Galaxy Note 2 (Note II) has been one of the most popular smartphones since its release back in September. It took a little more time to come to various US carriers and the Verizon version has only just finally released. If you're raving about your Galaxy Note 2 and using it constantly then your brain might just boggle at the thought of a Mugen whopping 6400 mAh battery for it that is due to release just before Christmas.
Alternatively you may have a family member or friend who you know loves their Galaxy Note 2 and would appreciate a replacement battery of such capacity, so this would be an ideal accessory gift for the holiday season. Not that the battery that comes with the Galaxy Note 2 is a slouch as many would already think the 3100 mAh battery is adequate. However heavy users who always like to carry a replacement battery with them may be wowed at the thought of how long they could keep going with this 6400 mAh battery.
Mugen Power has come up with this extended battery with more than double the capacity of the battery included. The product page for the Mugen Power 6400 mAh Extended Battery for Samsung Galaxy Note 2 with Battery Door lists it as being compatible with the following models — the Note 2 N7100, OLLEH Note 2 SHV-E250K, AT&T Note 2 I317S, Sprint Note 2 SPH-L900, T-Mobile Note 2 SGH-T889 and US Cellular Note 2 SCH-R950. Regular price is $105.99 but currently it's listed as $98.95 in both black and white color options. That's no small price to pay but no doubt many avid Galaxy Note 2 owners will think it worthwhile.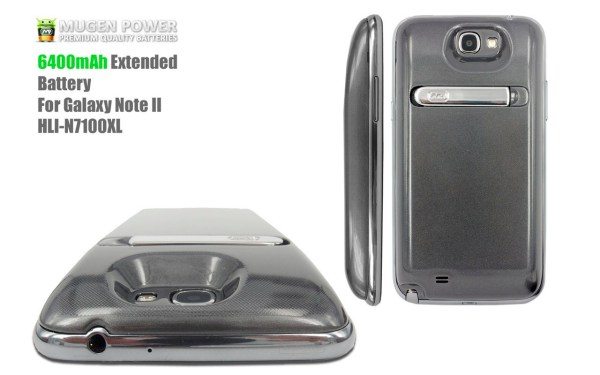 There will be another price to pay though for that humungous battery capacity and that is that the bulk of your smartphone will increase. The Mugen extended battery HLI-N7100XL might last 2.06 times as long as the included battery in the Galaxy Note 2 but because of that extra capacity it's also thicker. Mugen has considered the extra weight though and included a handy kickstand to take the strain, as noted by Engadget. The Mugen Power Galaxy Note 2 6400 mAh battery is due for shipping on December 21st.
What are your thoughts on the Galaxy Note 2 and this extended battery? Are you a happy Galaxy Note 2 owner who hasn't noted a need for extra battery capacity? Maybe you love your Galaxy Note 2 but feel an extended battery would be useful, even at this price? Send your comments to let us know.