Samsung Galaxy Note GT-N5100 7-inch tablet could rival iPad Mini
The Galaxy Note range is doing rather well for Samsung, the Korean company first delivered the original Note with its 5.3-inch display, and then old Sammy pushed out a 10-inch Galaxy Note, and this was followed by the Samsung Galaxy Note 2 with its 5.5-inch display. Now it appears that Samsung has yet another Note up their sleeve, this time to sit nicely in the 7-inch tablet market.
News of Samsung possibly delivering a 7-inch Samsung Galaxy Note device comes via a new NenaMark benchmark that delivers info on a device known as the Samsung GT-N5100, which is a 7-inch slate, that looks to be a Note device.
The belief that the Samsung GT-N5100 is a Note device is because the structure of that model number is quite similar to that of other Samsung devices that have been released in the Note series thus far.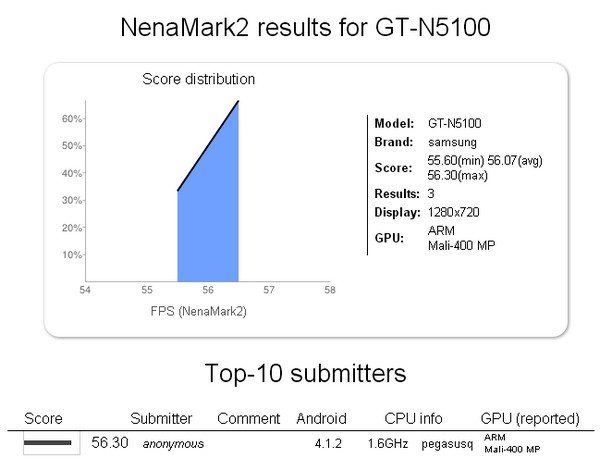 The benchmark shows that the Samsung GT-N5100 will sport a 720p touch screen along with Mali-400 MP graphics, a 1.6GHz quad core processor, and will run Android Jelly Bean 4.1.2 right out of the box, although of course by the time the slate launches that could change.
There's no reason why old Sammy shouldn't take advantage of the lucrative 7-inch tablet market, and would probably be a good move for the company especially delivering a 7-inch tablet with the S Pen functionality, and no doubt would also be yet another success for Samsung.
The chances of seeing a 7-inch Galaxy Note this side of Christmas is exceedingly slim, but we might get to see the device surface during CES 2013, or maybe Mobile World Congress depending just how far along old Sammy is with the device.
Obviously there are many other 7-inch tablets out there such as the Nexus 7, Kindle Fire etc, but would the so called Samsung Galaxy Note GT-N5100 7-inch tablet be a fitting rival to the iPad mini?
Would our readers love to see a 7-inch Samsung Galaxy Note come out to play?