GTA Vice City for iOS available, Android MIA: Update
Update 3: We have just looked and it looks like this game is not compatible with O2 Samsung GT-N7100 aka Galaxy Note 2. Hopefully we are wrong.
Update 2: It is a little weird that when you search Google play for "Grand Theft Auto Vice City" nothing shows up, but yet it shows here that it is ready to install. This link has now gone for some reason, so does not show in the UK – Just keep refreshing this page here…
UPDATE: We said below that the Android version was MIA, well now it seems Google Play has it on their store and ready for download. We looked into this a little more and decided to look for it on our Samsung Galaxy Note 2 and it is not there, this means it is not available for Android users in the UK. Another thing we have noticed is those that have tried installing GTA Vice City for Android have come up with errors, which says "XAPK Validation Failed and never downloads the required data to run the game"
We recently informed our readers that are into action gaming that the 10th anniversary edition of Grand Theft Auto, GTA: Vice City would become available to both the Android and iOS platforms as of today the 6th of December. And keeping true to that timeframe, GTA: Vice City has now become available to purchase on iOS.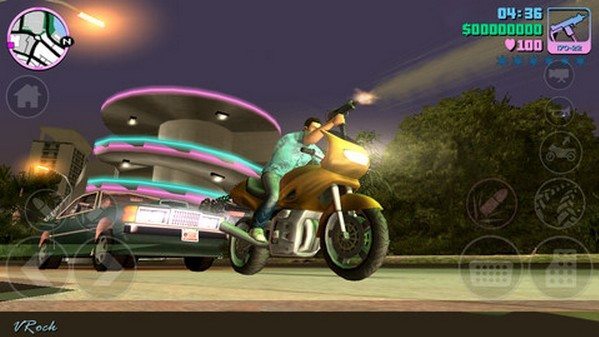 However, although it was expected that both iOS and Android versions of Grand Theft Auto: Vice City would release simultaneously, it appears the GTA: Vice City for Android is MIA at this time, and is not available to purchase from Google Play at the moment, although the game could pop up for sale at any time today.
Still, to be honest it is nothing unusual for Google Play to be a bit behind iTunes when it comes to offering new apps, so Android gamers shouldn't be too disappointed at the moment.
As for GTA: Vice City for iOS, the game is a universal app for the iPhone, iPad and iPod, including the iPhone 5, and takes the gamer back to the 1980's, and offers the gamer new lighting effects, character models, and updated graphics.
The iOS game also features iCloud game save support, customised controls with a fully customisable layout, custom iTunes playlist whereby you create a playlist entitled 'Vice City' then launch the game and select the radio station 'Tape Deck'.
The new game also has support for Retina Display devices whilst offering a massive campaign with numerous hours of gameplay, along with supporting English, German, French, Spanish, Italian, Korean, Japanese and Russian languages.
Grand Theft Auto: Vice City for iOS can be downloaded to your chosen iOS device as of right now at a cost of $4.99 from iTunes.
Any of our iOS gaming readers out there purchased GTA: Vice City yet and playing the game, if so feel free to let us know your opinions of the game by dropping us a line to our comments area below.