Casio G SHOCK Bluetooth enabled iPhone-friendly watch
Modern smartphones offer owners a whole host of features that where once only available on desktop computers and other expensive products, but now the handsets in our pockets or bags offer us a number of uses while also communicating with other things in our lives. Today we have news of the Casio G Shock Bluetooth enabled wristwatch that is also iPhone friendly.
Famous digital watch maker Casio has recently revealed its newest smart watch, the Bluetooth-equipped G-Shock GB6900AA series, which can be linked to the owner's iPhone via the G-Shock+ application from the company. Once installed into the handset the two devices will integrate with each other and then provide a number of features.
This includes time syncing, call and email alerts all from the watch, and much more. One of the G-Shock's standout features is the low energy consumption, which is important considering the small amount of space available for a battery along with the cost of watch batteries.
The watch achieves this low energy consumption by using Bluetooth Low Energy technology, which allows Casio to use a standard watch battery that should provide around two years of juice based on daily Bluetooth usage of twelve hours per day.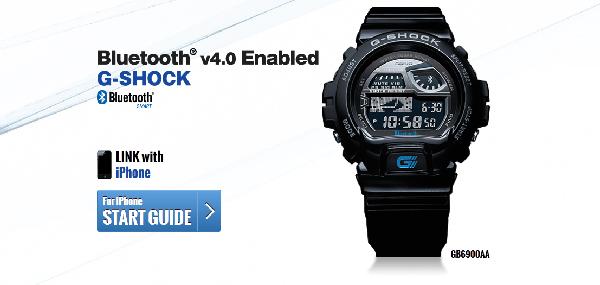 Other features of the new G-Shock include an LED super illuminator, countdown timer, 1/100th second stopwatch, five different alarms, world time zones, mute feature, and is also shock and water resistant up to 200 meters.
The watch is currently only compatible with the iPhone 4S and iPhone 5 running either iOS 5.1.1 or iOS 6, and the G-Shock+ application is available for download free from the App Store and is obviously needed to connect the watch and iPhone together. The watch is priced at $180 and has limited availability at select retailers, and to find out more hit the link above or check out the video below.
Do you like the look of Casio's new watch?