Top Gear SSR for Android available on Google Play
If you happen to be a big fan of Top Gear and you use an Android device, the Top Gear Stunt School Revolution app was originally exclusive on the Amazon Appstore. However if you are an Android gamer you can now download the Top Gear SSR app either as a free or paid app for Android from Google Play.
Top Gear Stunt School Revolution for Android is said to feature great visuals, iconic global locations, plenty of outrageous cars, ridiculous customisations and unbelievable stunts, all what you would expect from the Top Gear team.
The Android app features such world locations as Alcatraz, Sydney Harbour, New York, Moscow, London, the Grand Canyon, and China, with superb response and an intuitive driving experience.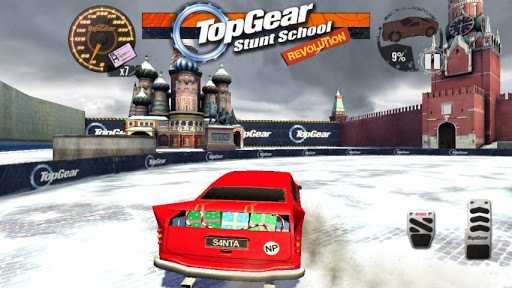 The Top Gear SSR app offers endless vehicle customisation so you can tweak your vehicle's performance to any scenario, you can balloon hop a motor home to clear the Grand Canyon, speed through a roller coaster on a New York skyscraper with a cow on your pickup, or even use a sports car to escape Alcatraz by leaping and landing onto a barge.
The game is free to play, and in-app purchase are available to get extra Gold Nuts, Stig Dollars, and Permits, and you can also challenge your friends to best your high scores on every stunt and let everyone know via Twitter and Facebook.
For those Android gaming Top Gear fans that would like to take advantage of what Top Gear SSR has to offer, there are two version of the game as mentioned above, the free version, and the paid Pro version which will set you back £0.69 from Google Play.
Any of our Android readers been giving Top Gear SSR a crack, if so we'd love to hear your opinions of the game, so feel free to drop us a line to our comments area below.