Star Wars Angry Birds comes to Windows Phone 7
The popular Star Wars version of the Angry Birds game has been available for quite some time on both Android and iOS platforms, and was also released to the Windows Phone 8 platform at the same time, but for those gamers with Windows Phone 7 devices they have been left waiting. That is waiting until now.
For those Angry Birds players that own a Windows Phone 7 handset you'll be pleased to hear that Angry Birds Star Wars has now finally been released for Windows Phone 7 devices a month after the game hit the other platforms.
Angry Birds Star Wars for Windows Phone 7 sporting Lumia handsets doesn't offer anything different to the other Star Wars versions of the popular pig defeating game, but those users now get to enjoy the space game with those Angry Birds posing as Star Wars characters such as Luke Skywalker.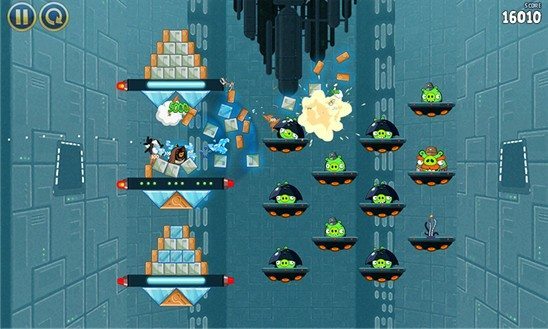 The game of course features in excess of one hundred levels from iconic locations such as Tatooine to the Pig Star, and you get to dodge laser blasts, turret fire, and Tusken raider pigs, along with using lightsabers, blasters and those Jedi powers to smash those dark side pigs.
Of course the gamer also gets to unlock all the R2D2 and C-3PO bonus levels if you are good enough at killing off all those storm trooper pigs on your way through the levels.
Personally I have been playing Angry Birds Star Wars on my Android device, and have to say the game is somewhat addictive, although I haven't managed to get too far into the game as I'm not a great gamer, but many are and will enjoy this game on their WP7 handset.
So for those that do have a device running Windows Phone 7, you can download Angry Birds Star Wars to your device from the Windows Phone Marketplace at a cost of just $0.99.