iOS 6 Apple Maps in deadly situation struggle
Obviously the entire mobile space knows about all the problems Apple has with their Apple Maps app especially when the app is giving out the wrong directions to users. And now it appears that the much maligned iOS 6 app has been branded as potentially life threatening by Australian cops who have issued a warning about using Apple Maps to locate places.
According to a report by CNN, law enforcement officers in Mildura, Australia, have warned drivers to be careful when using Apple Maps to locate Mildura because the app places the city over seventy kilometres from where it actually is and sends drivers into the Outback.
Apparently Apple Maps positions Mildura in the middle of Murray-Sunset National Park, and word is several drivers have had to be rescued by the police from the national park which sees temperatures of up to 114 Fahrenheit and with no water supply.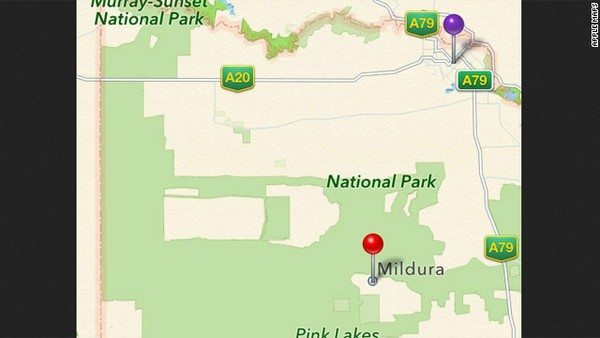 The police have stated that some drivers had been stranded for up to twenty-four hours lacking any food and water whilst walking long distances across dangerous terrain so they could get phone reception to ask to be rescued.
The word is the cops have contacted Apple on this matter, and hope that Apple can sort out the issue with the mapping app to make sure motorists travelling to Mildura can do so safely, but suggest that anyone travelling to the city or any other location in Victoria should use another form of mapping rather than relying on Apple Maps.
Adam Howorth, a spokesman for Apple declined to comment on the police allegations, but has stated that Apple is working hard to fix their maps.
Google Maps of course lists Mildura at its correct location, which is north-east of the Murry-Sunset National Park. However, according to a report over on the Guardian, Apple has now updated Apple Maps after the report from police so that Mildura is now showing in the correct location.
Of course as with most new apps there are always problems, but perhaps Apple should not have dropped Google Maps until they had their own mapping app in full working order, but then hindsight is a wonderful thing, and people do expect more from Apple software.
Do any of our iOS toting readers still use Apple Maps?