Motorola targets Samsung with RAZR HD vs Galaxy S3 ad
We are used to seeing Android device manufacturers go head-to-head with Apple in bids to promote their product but something that hasn't been quite so evident is one Android OEM going up against another. It seems that's all about to change though as Motorola is targeting Samsung with a new ad campaign pitting its Droid Razr HD against the phenomenally successful Samsung smartphone, the Galaxy S3 (S III).
Both Apple and Motorola are in the midst of legal patent battles with Apple and we are used to seeing this and also Android platform devices being promoted as rivals to Apple products. Indeed whenever we compare an Android device to an iOS device we always get opinion fiercely divided between loyal enthusiasts of each platform. To see one Android manufacturer taking on another Android manufacturer is pretty rare though but maybe we'll be seeing more and more of this type of thing as Android is now dominant in the market and Android OEM's realize that the competition is no longer mainly Apple but other Android device producers.
The new Motorola campaign came to light on Motorola's Facebook account here, with a photo of the RAZR HD next to the Galaxy S3 and a message above reading, "It's not easy. downloading… from another galaxy." Below the photo more text says that the RAZR HD has 49% faster download speeds when compared to the Galaxy S3. Clicking the link on the Facebook page will then take you to a Droid RAZR HD vs Galaxy S3 comparison on Motorola's site. The comparison looks at battery life, durability and design innovation.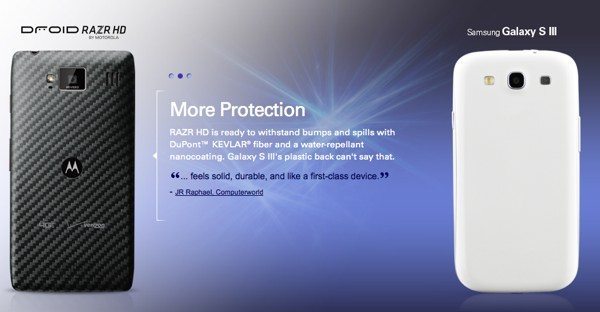 First of all Motorola says that the Droid RAZR HD has 20% more battery performance than the Galaxy S3. Turning to durability Motorola points out that the Droid RAZR HD withstands bumps and spills because of its DuPont KEVLAR fiber and water-repellant nanobacking and then brings up the plastic backing of the Galaxy S3, the one thing that the S3 faced the most criticism for.
Finally the design of the two phones is highlighted showing how slim and sleek the profile of the RAZR HD is compared to the Galaxy S3 and then highlighting some of the key specs and features of the Droid RAZR HD such as LTE, "killer rear and front cameras" and the Super AMOLED HD display.
It's certainly an interesting look at one phone against another and we'd love to have been a fly on the wall when it was first spotted in Samsung offices. We've written many times about both of these handsets and both are extremely impressive smartphones, although the Droid RAZR HD is more recent and our attention is already turning to the Galaxy S4 now.
We'd like to hear your thoughts on the Droid RAZR HD and Galaxy S3. Do you think one handset has more to offer than the other? Are you surprised to see Motorola set itself in opposition against Samsung in this way? Send your comments on this to let us know.