Samsung Ativ S hits Canada on 14th
As you know Samsung's first Windows Phone 8 smartphone has seen some difficulties getting out into the mobile space with the device having seen delay after delay, and a recent report that the Ativ S wouldn't arrive until February 2013 was debunked by Samsung launching the WP8 smartphone in Austria the other day. And now it appears it is full steam ahead for the Samsung Ativ S as other countries are about to see the device hit.
According to a report over on Mobile Syrup, those Windows Phone 8 fans over in the great white of Canada will soon be able to play nice with the Samsung Ativ S handset as the device has popped up on the internal system of Bell.
Old Sammy was the first to announce a Windows Phone 8 device but unfortunately is the last to actually get the device out there, due to apparently holding back the release of the Ativ S because the Samsung Galaxy S3 and Galaxy Note 2 were doing so well for the Korean company,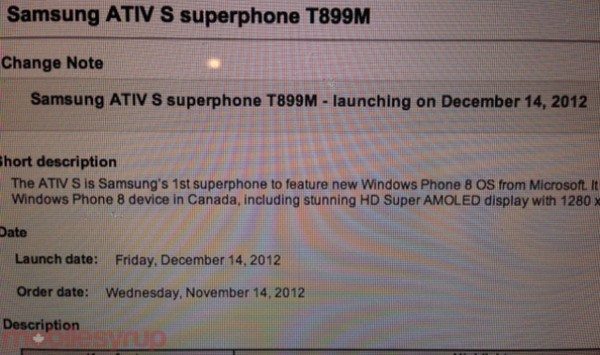 But now that is all in the past, and obviously Samsung now considers it the right time to let their Windows Phone 8 smartphone come out to play in Austria and soon in Canada as well, and no doubt other markets will follow in due course.
As for just when Canadian Windows Phone fans will be able to get the Samsung Ativ S from Bell, well word is the device will launch on the Canadian carrier as of the 14th of this month, so that would be this Friday by my reckoning.
The Ativ S according to the report will command a price tag of $79.99 when signing your life away for a period of three years, or if you prefer to forgo that lengthy commitment the Samsung Ativ S will set you back a hefty sum of $599.95 outright.
Just in case the delays have caused you to forget, the Samsung Ativ S offers a 4.8-inch Super AMOLED HD touch screen, a 1.5 GHz Snapdragon S4 dual core processor, a 8 megapixel rear facing auto-focus camera with LED flash, a 1.9 megapixel front facing snapper, 1GB RAM, 16GB or 32GB internal storage, microSD expansion up to 32GB, WiFi, Bluetooth 3.0, DLNA, WiFi Hotspot, NFC, a 2300mAH battery and of course runs the Windows Phone 8 operating system.
So there you have it, Bell should offer the Samsung Ativ S as of this Friday, no word on whether other Canadian carriers will also offer the smartphone as yet though.
Any of our Canadian readers excited that the Samsung Ativ S will finally become available?