Slope stand great for iPads, Nexus tablets & Kindles
If you happen to be the proud owner of an Apple iOS tablet or perhaps a Nexus 7 or Nexus 10 slate, or even a Kindle, and use your tablet on a desk, then you'll probably know just how valuable a good sturdy stand to house your tablet is so that your slate is propped up at a good viewing angle rather than being flat on that desk. So how about a tablet stand that not only anchors your slate to the stand but also anchors the stand to your desk?
That's where the Slope stand comes into its own. The Slope stand for the Apple iPad, Nexus and Kindle tablets, although I guess the Slope could be used with any tablet. The Slope stand has a minimalistic design, whist being manufactured in aerospace grade aluminum, and its shape has been CNC machined whilst the finish has been hand buffed, glass bead blasted, hard anodised and then sealed.
Connecting your Apple iPad or other tablet to the Slope is achieved by suction in the form of a nanofoam pad that is fixed to the Slate stand, one of which grips the rear of your tablet whilst the other grips the desktop, and these gripping pads are made of a special foam that is quite effective.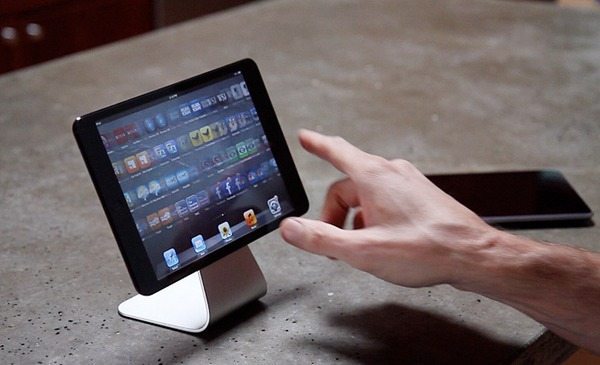 Apparently the foam pads have been constructed in a way that they are laden with a multitude of open air pockets on its surface that when pressing a flat object onto the pad the air is pushed out and thus creates a vacuum that holds it in place.
There is a setting in that takes place when you stick your tablet to the nanopad, and after about 30-seconds it is noticeably harder to pull your tablet away from the pad, which adds to the accessory's sense of firmness.
Also over the years as you change your tablet the Slope endures so as long as your device has a flat back it will work with the Slope stand, and as the nanopads are replaceable there is no reason why the Slope can't last for decades, whilst the device has been designed to hold a tablet two inches off the surface at a 66 degree angle for optimal viewing.
Unfortunately though you can't purchase the Slope stand just yet, because the device is a Kickstarter project. However the Slope was looking for a funding goal of $60,000 to get off the ground and has managed to garner $70,987 and as such will be funded by the 20th of this month.
Could any of our tablet owning readers make good use of the Slope stand?